Cardinals director of player personnel Steve Keim (left) helps time the 40-yard dash at USC's pro day Wednesday in Los Angeles.
LOS ANGELES ? The day ended with a Fatburger ? to go ? and the realization the final turn off the freeway, even with a GPS system, was still wrong.
?It?s not a scouting trip unless you get lost at least once,? quipped Steve Keim, the Cardinals? director of pro personnel, who drew the short straw in leading the two-car caravan.
Wednesday marked the final leg of the Cards? pre-draft scouting, with a journey to L.A. and USC?s pro day, ?the? event of such things. The stands sitting next to the USC practice field weren?t anywhere near full, not like the last time Keim came, when Matt Leinart and Reggie Bush were white hot and rock stars in the area.
The last time Keim went, he also flew commercial.
This time, Cardinals president Michael Bidwill was the pilot, taking the team?s contingent to watch the Trojans aboard his private plane. General manager Rod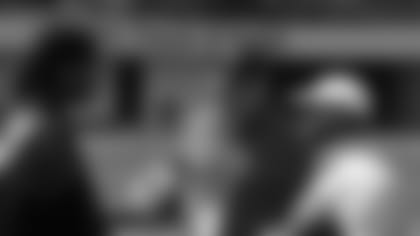 Graves took the trip, as did defensive coordinator Bill Davis ? the bulk of USC?s quality draftable players this year are on defense, especially linebacker ? and tight ends coach Freddie Kitchens. Former USC tight end Dominique Byrd, a one-time third-round pick of the Rams who finds himself out of the NFL, is working out as well. The Cards, still looking to stabilize the position, decide it can?t hurt to look.
Bidwill has never been to a pro day before. He wants to experience every facet of the team at least once, figuring it can only make it easier to run the franchise. This opportunity made sense. It meant an early wake-up call, but such is a benefit from living one state over from California ? a day trip.
The NFL personnel on hand included head coaches like the Saints? Sean Payton, the Vikings? Brad Childress, the Lions? Jim Schwartz and the 49ers? Mike Singletary. They were among those sitting in the tiny auditorium to start the day when USC coach Pete Carroll delivered a rundown of all his players.
?I just wanted to let you know (quarterback) Mark Sanchez has decided to stay in school,? Carroll said, before adding ?April Fools? to a group that didn?t exactly react with a collective laugh. Sanchez actually wasn?t going to be around at first. All he was doing was throwing passes on the day, and besides, he had class until noon.
Sanchez was the star of the workout, the guy who could be a top 10 pick. There were the USC linebackers, whose presence is why Davis wanted to come. Rey Maualuga and Brian Cushing are first-round locks. Clay Matthews could be, and even Kaluka Maiava will be drafted sooner rather than later.
The crowd grows out on the field after the measuring and bench pressing is over inside the weight room. Big-time agents like Tom Condon and Ben Dogra arrive. The media rolls in, with the NFL Network setting up in the corner and Mike Mayock mixing in with ESPN?s Todd McShay and Shelley Smith.
Pro days often draw attention, but not like the one at USC since Carroll arrived.
?Every year, this is the biggest one,? Mayock said. ?It?s a circus.?
Still, it?s nothing like the Leinart/Bush version, back when Carroll was still allowed to bring in dozens of potential high school recruits with the intent of impressing them with the NFL attention. ?That was the craziest I?ve ever seen,? Keim said.
Sanchez, not surprisingly, doesn?t hold much interest for the Cards, but Keim and Davis are some of the few that pay attention when defensive linemen Kyle Moore and Fili Moala are put through the paces by a pair of Saints scouts.
No player is going to raise or kill his draft stock on a pro day. Or, at least, they shouldn?t.
?This just reaffirms the things you saw on tape (from their college season),? Keim said. ?You have to be careful how much stock you put into it.?
Sometimes it?s not even about the draft. Byrd was part of that Leinart-Bush 2006 pro day and subsequent draft. Now he?s back on campus, trying to find a job. After catching passes for Sanchez, Kitchens is the only one to talk with Byrd or run him through some drills. The Cards don?t have any need for another tight end right now ? they just signed veteran Anthony Becht ? but it?s someone to keep in mind.
After Kitchens finishes with Byrd, the Cards? day is over.
There?s a quick stop for the hamburger and then maneuvering through the usual stop-and-go L.A. freeway traffic. Graves works his cell phone, finding out a potential free-agent signing didn?t work out. Out at 8 a.m., the plane is back at Sky Harbor Airport by 5 p.m., the data collected from the nation?s next-to-last pro day (Hawaii will hold one in southern California Thursday). Now the Cardinals resume their draft meetings.
Keim doesn?t have to worry about getting lost anymore.
---
Contact Darren Urban at askdarren@cardinals.nfl.net. Posted 4/1/09.