Cardinals president Michael Bidwill shares a laugh with Big Red while Mayor Phil Gordon reads a proclamation Tuesday in Phoenix.
Earlier this week, Phoenix mayor Phil Gordon declared Friday "Cardinals day" for his city, encouraging everyone to wear red as the Cards prepare to go to Carolina to play in the Divisional round of the playoffs.
The day now will start with a chance to say goodbye and good luck to the team itself.
The city has organized a rally at Sky Harbor International Airport beginning at 8:45 a.m. Friday, with the Cardinals arriving to take part just before they board their chartered flight to Charlotte.
Gordon will host the event, with Cardinals president Michael Bidwill, coach Ken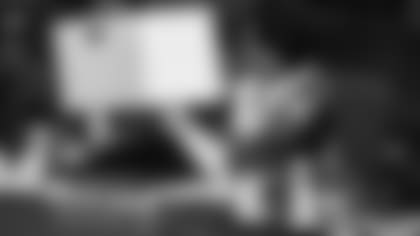 Whisenhunt and players expected to take part. Cardinals cheerleaders and Big Red will also attend.
The 45-minute rally will take place across the street from the airport parking lot on Buckeye Road, one block east of 24th Street. The gates will open at 7:30 a.m.
The rally will actually take place on the tarmac next to the plane, so after the rally, the team will simply board for its flight.
The rally plan was set in motion during a Phoenix city council meeting Tuesday, when Gordon unveiled a proclamation that "officially" made Friday about the Cardinals and wished the team luck against the Panthers.
Bidwill and Big Red were on hand at the meeting to thank the council. Gordon donned an Anquan Boldin jersey while making the announcement.