Defensive end Bertrand Berry lets out a primal scream during the Cardinals' Wild Card playoff win over Atlanta last weekend.
Bertrand Berry appeared in the playoffs for both the Colts and Broncos, so getting into the postseason with the Cardinals this year wasn't a new experience for the defensive end.
But the 33-year-old also knows he may not have too many more opportunities to win a Super Bowl. And that changes the perspective a bit.
"It always means a lot to you when you get to this position," Berry said. "It's very hard to win in this league. Anytime you have a chance to play for a championship, you don't take it lightly. Obviously, as an older guy, I realize how hard it is, even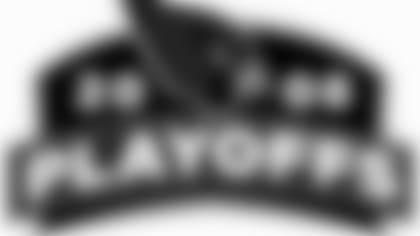 more than it did back then."
Running back Edgerrin James is the same way. While he just turned 30 before the season, James – who watched his former Colts teammates win a Super Bowl the year after he left – acknowledged he got to the playoffs so often in Indianapolis he "probably" took it for granted.
"I came into the league, everything was easy, a piece of cake. Now, the game is still easy, but not being in the playoffs, you have a greater appreciation," James said. "Especially being around some of these guys, like Adrian Wilson. You say, 'Damn, where they been at all these years?' "
Nose tackle Bryan Robinson, a 12-year veteran, lost each of his two previous playoff games. Quarterback Kurt Warner said he probably does appreciate a playoff run more now, especially after not having gotten to the postseason since the 2001 season.
"You don't understand the importance of being in the playoffs, you don't understand the significance of being in the playoffs in those early years," James said. "To someone like me, this is super big. Especially doing it here. I knew I was taking a big risk coming here (as a free agent) and being in the playoffs … I knew what I was talking about. At least a little bit."
The Cardinals did not have to submit an official injury report Tuesday despite practicing, but coach Ken Whisenhunt said wide receiver Anquan Boldin (hamstring strain) did some normal preparation and then reiterated that Boldin's status for the game is up in the air.
The same goes for defensive end Travis LaBoy (ankle), whom Whisenhunt said was also able to do a little work Tuesday.
Quarterback Kurt Warner was talking about how his children mostly don't care about football, although wife Brenda has apparently changed that a little for the Cards' current playoff run.
"My wife kind of put words in my mouth and said if we win the Super Bowl, they can get a puppy," Warner said. "So I think that's the only thing they are hanging on right now."
Warner admitted he isn't necessarily on board with the idea.
"I want to win a Super Bowl," Warner said, "but I still don't want to get a puppy."
Panthers quarterback Jake Delhomme said it was "hard to say" if his team has the same vibe inside the locker room as the squad he led to the Super Bowl after the 2003 season. The Panthers lost a thriller to the Patriots.
"I think we're a confident bunch," Delhomme said. "I don't think we're a cocky bunch at all.
"If you're in the playoffs right now, you're one of eight teams left. So you are pretty confident in the things you can do."