Defensive end Joe Tafoya signs a helmet for linebacker Calvin Pace as the Cardinals cleaned out their lockers Monday to close out the 2007 season.
Cardinals coach Ken Whisenhunt told Matt Leinart what he wanted to hear Monday morning: Leinart is No. 1 on the quarterback depth chart, with veteran Kurt Warner No. 2.
"He made it clear I am the quarterback, which I feel I deserve to be," Leinart said. "(But) I have to go out and prove myself. I know that. I'm not dumb."
That was the same message Whisenhunt relayed during his wrap-up press conference.
"I think we have shown we will play the best players," Whisenhunt said. "With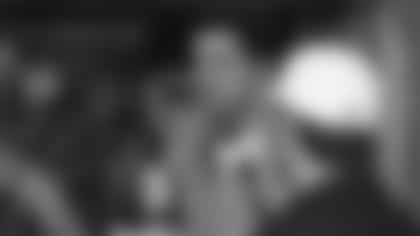 Matt, I said (Sunday), he didn't lose the position because of injury. He was the starter before being injured. But I want to make it clear, not just to Matt but all our players, it is a performance-based business. You have to prove by your play you can maintain that position."
That would seem to leave the door open for Warner, who did not appear in the locker room during Monday's final media availability. After Sunday's game, Warner said he'd like a chance to play but also understood Leinart was the future for the Cards.
Warner made the transition back to Leinart – out since Oct. 7 after breaking his collarbone – much more difficult with a stellar season: 3,417 yards passing, 27 touchdowns against 17 interceptions, and a 89.8 passing rating.
Leinart understands the scrutiny and called the idea people wonder if he can indeed be a franchise quarterback "a fact."
"(2008) is an important year for me," Leinart acknowledged.
He also said he and Warner will work through the situation, just like they have since Leinart arrived in 2006.
"I am not really worried about what people outside of the situation, outside the team, might say because I know I am the guy here," Leinart said.
The Cardinals' top three free agents all had varied – but equally low-key – thoughts on their futures: linebackers Karlos Dansby and Calvin Pace, along with wide receiver Bryant Johnson.
Dansby said he felt he would get a new contract done. Somewhat surprisingly, Dansby added "I don't think it will come to a franchise tag," which seems to be the logical conclusion if the two sides – who by all accounts are not close right now – cannot come to an agreement by the beginning of March.
Pace said when it came to his situation, he'd "rather be here, get it over with." Getting a contract done with the Cards, who drafted him in the first round in 2003 but didn't see him blossom until this season, makes the most sense to Pace. In Arizona, he said, he has friends and a scheme that lets him be successful.
"That is the best-case scenario for me," Pace said.
As for Johnson, he is in a more difficult situation. With wide receiver Larry Fitzgerald about to have his contract restructured and fellow Pro Bowl veteran Anquan Boldin in need of a contract upgrade himself, Johnson will be too expensive for a third receiver – even though Whisenhunt would like to keep him around.
"Reality is the only thing I deal with," Johnson said. "(Fitzgerald and Boldin) is the reality of the situation. It'll be interesting to see what happens."
Whisenhunt said he would like for his coaching staff to return intact, a refreshing change after the staff carousel the Cards underwent during Dennis Green's tenure. But Whisenhunt added that didn't mean his staff would stay intact.
With Bill Parcells taking over control of football operations in Miami, there has been much speculation that Cardinals offensive coordinator Todd Haley or running backs coach Maurice Carthon – both Parcells disciples – could be considered for the head coaching job if Cam Cameron is fired.
Offensive line coach Russ Grimm had interviewed for jobs before and may get calls, and even defensive coordinator Clancy Pendergast has popped up on the radar.
Whisenhunt said he hadn't yet heard from any teams asking for permission to talk to his assistants, but he didn't expect that to happen before Tuesday at the earliest.
While Whisenhunt would not say if Antrel Rolle might play safety next season, he did say the Cards would look at the positions to put Rolle "where he can make plays."
Whisenhunt also wasn't thrilled Rolle got a penalty for celebration after his touchdown Sunday. He reiterated that if a player got a penalty after a second TD return – which Rolle did in Cincinnati --  he'd let it slide.
"I made sure I addressed that with him," Whisenhunt said, brushing off the fact Rolle left the field before taking off his helmet.
"That's what he is clinging to, that he wasn't on the field," Whisenhunt said. "I told him, 'You're not winning that with me, I don't think you're winning that one with the NFL either.' "
Whisenhunt said the team will know by Wednesday what players might need offseason surgery. Wide receiver Anquan Boldin is the most significant one to consider with his bad hip. …
The Cardinals won six games at home this season for the first time since moving to Arizona 20 seasons ago. …
The Cardinals went for it on fourth down 14 times this season and were successful 12 times, an 85.7 percentage that was best in the NFL. …
The Cardinals also scored on 94 percent of their trips inside the red zone (47 out of 50), second in the NFL behind New England (68-72 for 94.4 percent). The Cards' TD percentage in the red zone was 68, third behind New Orleans and New England. …
The Cards signed six practice squad players to "futures" contracts Monday: tackle Elliot Vallejo, running back Steve Baylark, tight end Alex Shor, cornerbacks DeMario Minter and Travarous Bain, and receiver Jemalle Cornelius.
This article has been reproduced in a new format and may be missing content or contain faulty links. Please use the Contact Us link in our site footer to report an issue.