Wide receiver Anquan Boldin takes part in practice Sunday afternoon.
FLAGSTAFF – Anquan Boldin was back.
"Didn't seem like he missed a beat," Cardinals coach Ken Whisenhunt said of his Pro Bowl receiver, who went through his first practice Sunday afternoon since suffering a hamstring injury July 26.
Boldin said his hamstring "is straight," insisting he had no limitations and that he expected to play in the Cardinals' preseason game this week in Kansas City.
That doesn't mean Boldin will do everything. Unlike fellow starter Larry Fitzgerald, Boldin worked with multiple levels of the depth chart during practice.
Whisenhunt said there were multiple reasons Boldin wasn't simply going right back to his normal spot.
"Anquan will go full speed all the time and we have to make sure early in the
[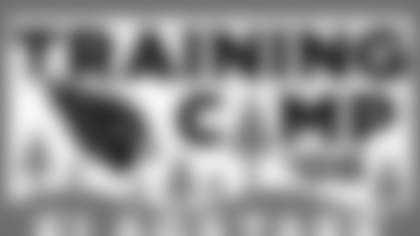 ](http://www.azcardinals.com/news/training_camp.php)
week he doesn't do too much," Whisenhunt said. "And Anquan too, not being here (for OTAs) and having missed the first (two) weeks there are a number of things we've done that he hasn't gotten reps on. There will be a little bit of a learning curve for him, not with knowing what to do but actually physically getting those reps."
Boldin said he doesn't see any reason to rush into anything since "it's only preseason." But he proclaimed himself "cool" with the playbook despite his missed time.
"The only thing is getting in football shape," Boldin said. "That's pretty much it."
Whisenhunt said it was too early in the week to say how he was going to break down the quarterbacks' playing time in Kansas City. Backup Kurt Warner, trying to wrest the starting job from Matt Leinart, did not play in the opener because the coaches did not want to risk injury for what would have been only a few plays.
As Whisenhunt has done since the offseason, Warner again had a practice in which he worked with the starters Sunday. The coach again emphasized it did not mean anything other than normal work.
A CARD IN A DIFFERENT ROLE
Quentin Harris was once an undrafted free agent safety who carved out a five-year career in the NFL. His four years with the Cardinals was probably most memorable when then-coach Dennis Green named him the starting free safety over Dexter Jackson at the conclusion of the 2004 offseason workouts.
But at one point during those seasons Harris had a brief conversation with then-scout Steve Keim, who told Harris he would be a good scout some day.
When Harris' career petered out after stints with the New York Giants and Denver Broncos, Harris considered going into the FBI. He thought about using his information technology degree. But he decided to call Keim, now the Cards' director of player personnel. After a couple of interviews, Harris was hired to be the Cards' new pro scout.
"I don't have the itch (to play)," the 31-year-old Harris said. "I didn't want to be that guy to keep chasing the dream and falling further behind on the career that you are eventually going to have to go to anyway.
"I like watching the film and evaluating guys. I like to see where we can get better."
Whisenhunt said wide receiver Early Doucet went back to the team's Tempe facility this weekend to work out his injured hamstring in the pool, but Doucet remains sidelined. The hope is Doucet can give practice a try later this week. …
Safety Antrel Rolle hurt his left ankle returning a punt against the Saints. He sat out Sunday and is day-to-day. …
Safety Aaron Francisco struggled in pass coverage in the preseason opener, failing to knock down a couple of throws. Whisenhunt said part of the problem is Francisco having to take it easy in training camp and not wanting to get tangled up with teammates, a habit that is tough to break in a game.
"I will say he was in position," Whisenhunt said. "In the second game I am confident he will play the ball better." ...
Rain forced the Cardinals to practice inside Walkup Skydome Sunday.
This article has been reproduced in a new format and may be missing content or contain faulty links. Please use the Contact Us link in our site footer to report an issue.