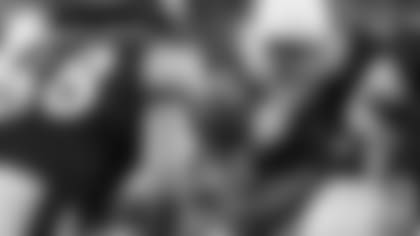 Defensive End Calais Campbell is doing what he can to step in for Antonio Smith.

FLAGSTAFF – Calais Campbell isn't Antonio Smith.
Campbell knows that, of course. He knows he has some work to do to reach the level of Smith, whom Campbell replaced as starting defensive end. But in case he doesn't, fellow defensive lineman Darnell Dockett – who happens to be Smith's best friend – reminds Campbell as often as possible.
"He hears it every day," Dockett said. "Me and B-Rob (nose tackle Bryan Robinson) have a special handshake. We told Calais he couldn't get in on the special handshake until he makes some plays. And he is (ticked) about it too."
Campbell has turned into the Cardinals' case study in dealing with natural NFL turnover. With the salary cap, a team can't keep every single one of its rising players. Decisions have to be made, and it would be naïve to think the Cards
weren't thinking about Smith's impending free agency after the 2008 season when Campbell was selected in the second round of last year's draft.
Smith got his big payday – the Texans signed him to a five-year, $35 million contract – and Campbell gets his chance.
On the field, it's been relatively smooth. Veteran linemen like Dockett and nose tackle Gabe Watson have seen Campbell progressing. In his first start, against the Steelers in the preseason opener last week, Campbell was solid in his stint, making some plays against the run and creating some pass-rush pressure.
"His challenge will to make that consistent week in and week out," coach Ken Whisenhunt said. "He has passed the first test -- he has taken it from the practice field to the game field."
Campbell has long insisted he wasn't taking the natural ascension to starter (he never really had to beat anyone out; he moved up without competition when Smith departed) for granted.
There is another challenge for Campbell, though, and it's replacing Smith within the fabric of the defensive linemen's society.
"He was a big part of the team personality-wise, leadership-wise, not including what he meant on the field," Campbell said. "I know I have big shoes to fill, but I am just trying to be myself and do what I can to help the team and not try and do what he did. We do have similar personalities. Maybe I can get a leadership role at some point, but I am a little bit younger so I'm not sure guys listen to me."
Finding chemistry with Dockett would help both Campbell and the Cardinals. One of the first by-products of Smith's migration to Houston was the question of how it would affect Dockett. Dockett made it clear after the first practice of camp just what Smith meant to him.
"It's hard, man," Dockett said then. "I came out today and it was like half of my heart was gone. I had to look around for somebody to bond with. But there ain't nobody will take my boy's (place)."
Campbell can't automatically take that place, but he's trying to fill in the gaps. The Cards have talked with Dockett a couple of times, stressing the team's need to have Dockett grow his leadership skills. Dockett seems to have taken this request for professionalism to heart, and that includes getting past the loss of his best friend.
Perhaps Campbell, at some point, will make people forget about the steady Smith. Maybe he earns the knowledge of the special handshake. Campbell is patient. He knows Dockett has faith in his abilities.
"If you saw Antonio, you saw Dockett with him," Campbell said. "That's tough. I know how it is, when I was at Miami (in college) I had a couple of great friends and then you have to part ways. You miss them, but Dockett is a good dude and a professional. He'll go hard and be a big-time contributor. He is on me real hard to make sure I do what I can to keep him from being double-teamed all the time."