Sixteen years after he helped mold Anquan Boldin into a record-breaking rookie wide receiver, Jerry Sullivan is back on the practice fields of the Arizona Cardinals.
He patiently explains particular steps off the line of scrimmage to Kevin White. He pulls Pharoh Cooper aside for instruction. He gives Jalen Tolliver advice. And Larry Fitzgerald – he of 11 Pro Bowls, but also the sense to understand the knowledge Sullivan possesses – soaks in all the instruction.
"He's Mr. Miyagi, that's what we call him," wide receivers coach David Raih says with a smile.
"Sully is the legend," Raih adds, "and I openly state that."
The Cardinals have Raih, who worked with head coach Kliff Kingsbury at Texas Tech before spending the last five years with the Green Bay Packers. They also have assistant wide receivers coach Peter Badovinac. But General Manager Steve Keim had long kept in touch with Sullivan, who was the Cardinals' wide receivers coach in 2001-2002 before being elevated on Dave McGinnis' staff to offensive coordinator in 2003 when Keim was an area scout for the team.
Sullivan, who officially retired from Louisiana State University following the 2018 season, was hired by locally based EXOS to help train draft-bound wide receivers for the Scouting combine. After Sullivan was done readying prospects like D.K. Metcalf and A.J. Brown, Keim brought him in to interview with Kingsbury.
He already had history with Fitzgerald, serving as Fitz's personal coach during the 2011 lockout. Now, the 74-year-old Sullivan is doing what he loves the most, teaching the fundamentals of receiving at a place from which he still holds fond memories.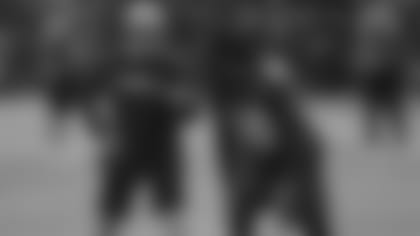 "A lot of the stuff (in coaching) doesn't appeal to me anymore, but when you say, 'Get on the grass and coach them up,' I can do that," Sullivan said. "You get to a certain point, you're agenda-free. I'm not trying to prove I know how to coach – I know how to do that."
Sullivan has been coaching wide receivers since 1971. He coached NFL receivers for six teams from 1992-2016, save for the 2011 season. Fitzgerald – who knew Sullivan through Boldin – hired Sullivan, who was coming off a stint working with the 49ers, to work with him in March of 2011. Sullivan stayed at Fitzgerald's Phoenix home for a few months, then went to live with Fitzgerald in Minnesota up until the lockout ended and training camp finally began.
To this day, Fitzgerald believes the daily work on his routes led to Fitzgerald's most efficient season that year, when the future Hall of Famer had "only" 80 receptions but totaled 1,411 yards for a career-best 17.6 yards per catch. Fitzgerald said the yards gained traced directly to the amount of room he had to work post-catch because of the crisp routes he would run.
"He's forgotten more football than most people have ever seen," Fitzgerald said. "He's a technician in terms of the work, the top of the breaks, the mechanics of route running, which has an impact in the room. Even as old as I am, I can still freshen up on techniques he taught me from years back. He's a tremendous asset. Coach Raih is really smart and has attention to detail, and coach Sully is good with the field work, so they complement each other really well."
Every day in meetings, Raih inserts a "Coach Sully" segment. Every day the receivers are on the field, Raih also includes a "Coach Sully" segment, where Sullivan and Raih drill down on one specific route technique. Otherwise, Raih said, the two are together constantly in the building, talking the fundamentals of pass catching and route running.
"Kliff got a really good staff, and he is a real easy guy to be around," Sullivan said. "He's a very humble guy. He's a guy who knows what he wants to do and better yet, he knows how to do it.
"I think it's been well received. I've been very appreciative of all the guys, (passing game coordinator) Tom Clements, David Raih. Being in the building has been great, seeing not just football people but some of the other people I recognize from way back. It's been an enjoyable experience."
The plan is for Sullivan to coach with the unit into training camp. The Cardinals certainly have youthful receivers with which to work, and Raih and Sullivan haven't even been able to do anything yet with draft picks Andy Isabella, Hakeem Butler and KeeSean Johnson. Raih also relishes what he can take from Sullivan.
Raih's receiving coaching background came from work with Jim Hostler in Green Bay, and Hostler learned from Sullivan when the two worked together with the 49ers. To be working with Sullivan directly, Raih said "I'm grateful." To hear another nickname Raih and Kingsbury have given Sullivan --"O.G." – is not a surprise.
"To now be with him and get the little details," Raih said, "he's the sensei, you know?"
The Cardinals added punter Ryan Winslow Thursday, cutting kicker Cole Murphy in the process. Winslow is a product of the University of Pittsburgh -- like current veteran punter Andy Lee -- and spent 2018 training camp with the Chicago Bears.