New preseason TV play-by-play man Mike Goldberg (right) joins Bill Lewis (left) on the Cardinals' broadcasts this month.
FLAGSTAFF – With the Cardinals' preseason opener televised by ESPN, Mike Goldberg had to wait a week.
But with Saturday's preseason game in Kansas City, the Cardinals' new preseason TV play-by-play voice gets to make his debut.
Goldberg, a veteran broadcaster who has announced NHL hockey, NCAA football and mixed martial arts, will be joined by former Cardinals' center Bill Lewis for the remainder of the Cards' preseason schedule. Live telecasts will be shown in the Phoenix area on ABC-15 with replays on FSN Arizona.
Jody Jackson will be the television sideline reporter. As usual, the radio team will
[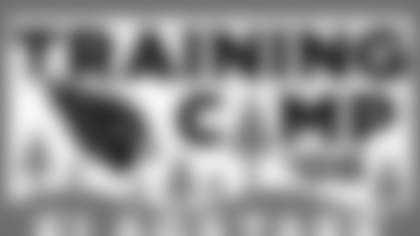 ](http://www.azcardinals.com/news/training_camp.php)
feature Dave Pasch and Ron Wolfley, with Paul Calvisi on the sidelines.
Each preseason telecast will be preceeded by "Maximum Cardinals: The Pregame Show" presented by Alltel Wireless, a half-hour program hosted by Jackson. Kickoff for the Kansas City game is 5 p.m. Arizona time, with the pregame show beginning at 4:30.
The replay will be on FSN Arizona Sunday at 6 p.m.
Pregame for the Kansas City game on radio begins at 2 p.m. on News/Talk 92.3 FM., and the game will be followed with an hour of talk with Jon Bloom and former Cardinals receiver Rob Moore.
Defensive end Darnell Dockett will be out at least a week because of a mild strain of his pectoral muscle, meaning he will not play Saturday in Kansas City. Safety Antrel Rolle (ankle) has also been ruled out of the game by coach Ken Whisenhunt.
Wide receiver Early Doucet, who was able to practice on a limited basis Thursday afternoon with his bad hamstring, is still doubtful and not yet out for the game, Whisenhunt said. But since Doucet has not practiced much in more than a week, it's highly unlikely he would play.
Cornerback Dominique Rodgers-Cromartie (ankle) participated in Thursday's light practice and should play some in Kansas City.
The Cardinals also brought linebacker Monty Beisel (back) off the physically-unable-to-perform list Thursday and he practiced.
Whisenhunt, talking for the first time since his team had a couple of scuffles in Wednesday night's practice, said the competitiveness made it a good practice. Safety Adrian Wilson sparked a skirmish when he hit running back Tim Hightower, and prior to that linebacker Travis LaBoy surprisingly hit quarterback Brian St. Pierre – and quarterbacks are not allowed to be hit in practice.
"We just have to be careful when you hit the quarterback, which is what we talked about," Whisenhunt said. "I don't think it's really an issue. He was frustrated because there was a lot of give-and-take going on, and like we have talked about many times, you have to control your emotions."
Whisenhunt said Wilson's hit would normally be clean, except that he didn't want his players to forget they were battling teammates and not another team.
"I just think we have to be smart going against ourselves in certain situations," Whisenhunt added.
This article has been reproduced in a new format and may be missing content or contain faulty links. Please use the Contact Us link in our site footer to report an issue.