Future Cardinals cornerback Dominique Rodgers-Cromartie works out during the 2008 scouting combine in Indianapolis.
Watching himself on some of the raw "wired" video from the Super Bowl, Ken Whisenhunt noted Tuesday it had just been a little over two weeks since the Cards played that game.
Almost immediately, Whisenhunt had to dive into changes on his coaching staff. General manager Rod Graves began working with free agency issues.
Now comes the scouting combine in Indianapolis with the unofficial start of the 2009 season, a chance to look at many of the potential draftees at a time when there hasn't been much time to think about them.
"I don't think we have had as much time to watch tape on some of these players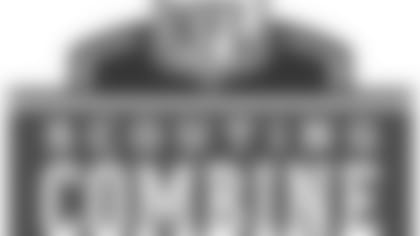 as far as going in ahead of time, but just having the knowledge and the background and the idea of which players we feel will be good players, I think we have a good feel for that," Whisenhunt said Tuesday.
The other issues surrounding the Cards have yet to be finalized. Whisenhunt said he was hopeful he would have his coaching staff set by Wednesday morning at the latest. Graves said he continues to have good conversations with the agent of free-agent-to-be Karlos Dansby, but in regard to the deadline to use the franchise tag Thursday, Graves said nothing had been decided yet.
Graves wouldn't term a new contract with quarterback Kurt Warner as "close," but he did say the sides were "closer" in coming up with an extension. The free agent period begins Feb. 27. The NFL Players Association holds one of its annual meetings in Indianapolis at the same time, so agents have a chance to touch base with teams about their impending free agents.
Whisenhunt was scheduled to fly into Indianapolis Thursday morning, with the team beginning its interviews that night. Teams can interview up to 60 potential draft picks
The combine has a slightly different setup this year, since the workouts will now be held in the new Lucas Oil Stadium. But it remains the best way for one-stop shopping for draftee information, whether it is the individual interviews, the drills on the field or the medical tests.
Graves said getting much of that information verified – especially the medical tests – is what makes the combine important.
"You don't want the workouts to replace what we see on the field," Graves said. "But you like to see guys move around."
That doesn't mean a player's on-field work can't change perception, however. Last season, few knew about a skinny cornerback from Tennessee State named Dominique Rodgers-Cromartie. But after his combine work, Rodgers-Cromartie shot up draft boards, eventually becoming the 16th pick of the first round by Arizona.