Wide Receiver Anquan Boldin signs an autograph for a fan as he arrives in Flagstaff on training camp reporting day Wednesday.
FLAGSTAFF -- Dominique Rodgers-Cromartie wasn't there, nor was the long hair of Eric Green.
Anquan Boldin and Darnell Dockett were there, and while Gabe Watson and Monty Beisel arrived, so too did the news they wouldn't be participating for many practices at Northern Arizona University because of injuries.
Those were the highlights of reporting day for the Cardinals at training camp, as coach Ken Whisenhunt prepares to conduct his second camp in Arizona (Click here for a photo gallery).
"We were 8-8, an average team," Whisenhunt said. "We have a lot of work to do to be a playoff team.
"But from what I have seen (in the offseason) these guys have a mindset they
[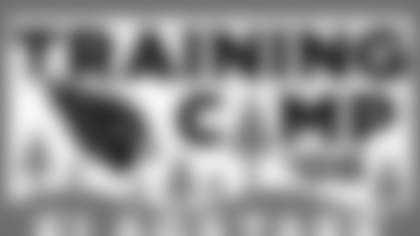 ](http://www.azcardinals.com/news/training_camp.php)
want to get better, because they feel like we have a chance to be successful."
The team has their conditioning test Thursday with practice beginning Friday.
The lone missing player was cornerback Rodgers-Cromartie, the unsigned first-round draft pick. Whisenhunt said he was hopeful it wouldn't be a protracted absence, noting the dearth of unsigned first-round picks. As of Wednesday evening, only eight of 31 first-round picks had signed, although No. 14 pick Chris Williams of Chicago – the choice two picks in front of Rodgers-Cromartie – did come to a deal.
"We have talked today and plan further discussions tonight," general manager Rod Graves said in a text message Wednesday evening about negotiations. "Although we still have a lot of ground to cover, we have made progress."
Both Boldin and Dockett were hoping for their own negotiations to upgrade their contracts, but those have not materialized. Both skipped all the voluntary offseason organized team activities, and at one point Boldin said he wasn't sure if he would come to camp.
But Whisenhunt said he was not surprised when both showed up Wednesday, saying he had never been led to believe anything else by the players or their agent, Drew Rosenhaus.
Boldin did not make himself available for interviews, but Dockett brushed aside the idea he would have missed camp.
"This is what I have been looking forward to, continuing my career where I left off last year," Dockett said. "Missing training camp wasn't a big part of my plans. Right now I'm here trying to do whatever I can do to help my team win.
"I am really ready to get after it up here. … I am just worried about playing football. All those other issues are to the side."
Whisenhunt said he didn't expect the two to allow the contract issues to cause a problem in camp.
"I know they are professionals and good football players," Whisenhunt said. "We as a team, and I hope those two are the same way, are excited about the season."
The excitement of a new season – among other things – led Green to shear off his trademark long hair.
"There have been plenty of times I thought about cutting it," the cornerback said. "It's a new year for me, and it's my most important year."
Green, who will be an unrestricted free agent after the season, noted "it's kind of a sign of growing up."
The Cardinals have just 81 players for camp – including the exemption for linebacker and Mexican national Eduardo Castaneda – so the recovery of Watson, Beisel and fellow sidelined defensive lineman Keilen Dykes (quad) is important. All three will begin camp on the physically-unable-to-perform list.
Beisel, who said he is already doing long hikes and other activity without problems, said he expects to be sidelined from practice three weeks after his recent back surgery.
Watson, meanwhile, will continue cardio work after weighing in at 323 pounds, 11 pounds lighter than his maximum weight prescribed by the team.
"A week ago, I ran full speed. I just need to build strength," Watson said. "They don't want me to push it. It's a bone and you have to let it heal.
"I feel I am in good shape. … I'm not sure of a timetable. I just want to be ready by the first game."
This article has been reproduced in a new format and may be missing content or contain faulty links. Please use the Contact Us link in our site footer to report an issue.