Cardinals receiver Anquan Boldin smiles at a question Wednesday while he addressed the media for the first time after getting hurt Sunday in New York. 
He was sent off the field in a stretcher Sunday, but Wednesday Anquan Boldin didn't sound or look all that different than before enduring the horrific hit from Jets safety Eric Smith.
The wide receiver's mindset wasn't going to change either, despite the dangers of playing as physically as he does.
"That won't change the way I play at all," Boldin said after practice Wednesday in his first words since his injury. "As soon as I get back on the field, it'll be the same old me.
"I don't plan on altering the way I play because if I did, I wouldn't be Anquan."
Boldin, hurt with 27 seconds left in the Cardinals' 56-35 loss in New York, said he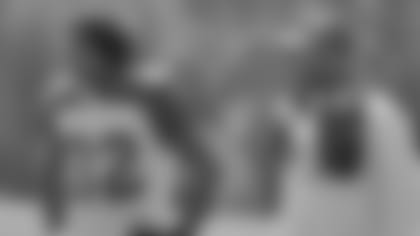 suffered a sinus fracture. His status beyond the fact he sat out practice Wednesday is unknown; both he and coach Ken Whisenhunt said Boldin will be undergoing further examination before making any announcements about Boldin's possible return.
Boldin said there is a course of rehab in which he could have a procedure done. He said he could also let the injury heal on his own. That decision is yet to be made, although Boldin added he should know a timetable in the next couple of days.
Boldin said he remembers everything from Sunday, from getting hit to going to the turf to trying to get up and walk off the field on his own. He was unconscious, he said, but for only a brief few moments. He added he never felt in any danger.
The Pro Bowl receiver, who had 10 catches for 119 yards in the game before getting hurt, finally saw a replay of the hit Monday morning.
"I really don't have a reaction to it," Boldin said. "For me, it's just part of football. It was unfortunate situation, but you take your bumps and bruises."
The almost immediate news Boldin wasn't seriously injured was a relief to Whisenhunt. The coach was a member of the Jets in 1992 when defensive lineman Dennis Byrd was paralyzed after getting hurt in a game.
"It's never easy either way," Whisenhunt said. "We're just very glad, as I am sure all of our fans are, that Q is OK."
Reporting that his head is clear and his memory and balance fine, Boldin said he didn't think he had a lingering concussion, having passed those tests. Doctors told him it would be normal to suffer headaches but Boldin said he hasn't had any.
He watched practice Wednesday like any other injured player, having a chuckle with running back Edgerrin James during walkthrough at the outset of the workout.
Boldin didn't act different then. It's no surprise he doesn't expect to act different in games.
"The guy is a beast," quarterback Kurt Warner said. "What do you say? The guy is a tremendous football player and he plays the game one way and that's what has made him great."
This article has been reproduced in a new format and may be missing content or contain faulty links. Please use the Contact Us link in our site footer to report an issue.