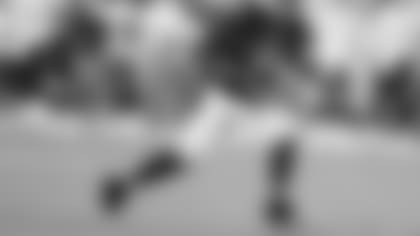 Wide receiver Anquan Boldin, here against San Diego last weekend, is nursing a sore hamstring suffered in practice this week.

Anquan Boldin is sidelined, a tweak of the right hamstring that shouldn't mean too much by the time the regular season begins.
Instead, coach Ken Whisenhunt will try to see the flip side of Boldin's absence – and the one of fellow injured receiver Steve Breaston – when the Cards play the Packers Friday night in their final preseason home game.
"We'll get a chance to see Jerheme Urban in a starting role, we get to see Lance Long against some (starters), Early Doucet, Sean Morey," Whisenhunt said. "It will be a good chance to get work against a good defense and their No. 1 unit."
Boldin apparently hurt the hamstring during Tuesday's practice. Boldin got an MRI done on the area Tuesday night, and Whisenhunt said he didn't think the injury was serious. While Whisenhunt said he wouldn't rule Boldin out of the Packers' game, given the fact it is just the preseason "we are also going to be smart with it."
Unlike Boldin, Breaston was able to do some limited work Wednesday, but he remains doubtful to play with his sore knee. Right now, Whisenhunt said, the Cards just want to see how Breaston's knee reacts to increased work.
Since the game will be the normal showcase for the starters – they are expected to play at least the first half – the receiver situation also opens a door for Urban, who had arguably the best training camp of any player.
"I came into camp wanting to get better and wanting to push those guys ahead of me, and this is an opportunity to go out and do something with Kurt (Warner) and those guys that I haven't gotten to do since, when, Seattle two years ago?" Urban said. "Hopefully I will play well and keep building the trust with (No.) 13."
Quarterback Brian St. Pierre, who had sat out the first two practices because of a bad back, was limited again Wednesday because of the back. Whisenhunt said he would be reevaluated before Friday's game.
Remaining out were LB Ali Highsmith (ankle), T Elliot Vallejo (kneecap) and WR Michael Ray Garvin (knee surgery).
Hidden behind the Matt Leinart/St. Pierre backup battle has been fourth-string quarterback Tyler Palko, who remains the lone QB to throw a touchdown pass in the preseason. Palko didn't play in the second preseason game after completing 8-of-15 passes for 103 yards, a TD and an interception in the opener in Pittsburgh.
Palko also added in an 11-yard run, and Whisenhunt said he looked forward to seeing how Palko handles more playing time against both the Packers Friday and the Broncos in the preseason finale.
"I see a young, fiery guy who wants to play and competes," Whisenhunt said. "We have to rein him in a little bit because he has a tendency to get a little too juiced up. That's him being a competitive guy and with three good quarterbacks ahead of him. But he's got talent, he is starting to get an understanding of what we want out of him, and in that first game he made some good plays."
GRIMM ENCOURAGED WITH LINE DEPTH
Offensive line coach Russ Grimm is usually conservative with praise of his group, but even he acknowledges the Cards are in much better shape should one of the starters – none of which missed a start last season – get injured.
"We've got some guys a lot closer to stepping in," Grimm said. "Oliver (Ross) knows this system. Cheese (Elton Brown) knows this system; two years ago he played a couple games and bailed us out at guard and tackle. Brandon Keith, this is his second year, so he is getting a lot better. And we were fortunate in free agency to get (centers) Ben Claxton and Melvin Fowler, they have started games. We will progress and go through camp and see what happens."