For the Cardinals, there was a new head coach, and they were coming off a season to mostly forget.
Not this week, with the draft coming Thursday, although it is the same situation. This was 2004, a year that produced a Cardinals' draft class to remember.
The first three picks were wide receiver Larry Fitzgerald, linebacker Karlos Dansby and defensive tackle Darnell Dockett. And in many ways, the setup mirrored what the Cards will have this weekend. This year, the Cardinals own the first pick in every round of the draft (then some – they have 10 picks overall.) In 2004, they picked third in the first round, and at the top of the rounds only in the second, third and seventh.
The Cardinals ended up with a class in which all seven draftees not only made the roster, but started at least one game – and everyone aside from seventh-round quarterback John Navarre eventually started at least 20 games for the team. The core group, with Fitzgerald, Dansby, Dockett and defensive end Antonio Smith, were part of the backbone of the 2008 team that reached the Super Bowl.
"We are very proud of our group," Fitzgerald said. "We feel it's the best draft class in franchise history. Four players playing 10-plus years is pretty damn good. There's 15-plus Pro Bowls among the group."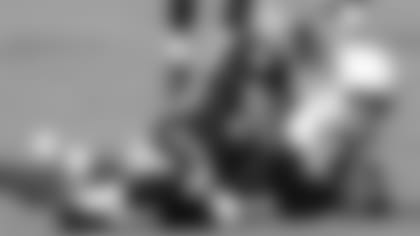 FIRST ROUND (3rd overall) – WR LARRY FITZGERALD
The big reason the draft was so good is in large part due to Fitzgerald himself, who is second in the league all-time in receptions and third in yards receiving as he heads into his 16th season in the NFL. When the Cards picked him, they could've gone quarterback – both Philip Rivers and Ben Roethlisberger were on the board – but coach Dennis Green knew Fitzgerald well and was convinced Fitz would, well, become Fitz.
The day Fitzgerald was chosen was emotional. In those days, the draft was held on Saturday and Sunday, and on Friday, the news broke that former Cardinal Pat Tillman had been killed in action while serving as an Army Ranger, and that hung over the draft all weekend. Some thought Fitzgerald could go No. 2 to the Raiders, but the Raiders instead went with tackle Robert Gallery, and the Cards had Fitz to pair with emerging star Anquan Boldin, who blew up as a rookie in 2003.
So far, Fitzgerald has a catch in 227 straight games – the only game of his 234 career games in which he did not have a catch was his rookie season in Buffalo – and has made 11 Pro Bowls.
QUOTE FROM DAY HE WAS DRAFTED: "Anquan has definitely set the bar high for Arizona receivers. I just want to come in and help contribute to the productivity of the team and the offense and I want to go in there and play the best way I can. Hopefully I'll get myself on the field early."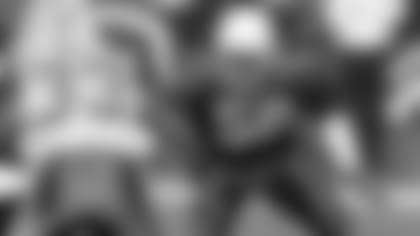 SECOND ROUND (33rd overall) – LB KARLOS DANSBY
The Cards used the first pick of the second round to nab Dansby, a rangy playmaker from Auburn. He started from his rookie year on, and while he never did reach a Pro Bowl, he had arguments some years that he should have. His Cardinals' career was three-fold – after being franchise-tagged twice he left as a free agent after the 2009 season, returned to play in Arizona in 2013 (arguably the best year of his career, when he had 4 interceptions and 6½ sacks), left as a free agent again and then returned to the Cardinals for the final year of his career in 2017. He is one of only five players in NFL history with at least 40 sacks and 20 interceptions.
QUOTE FROM THE DAY HE WAS DRAFTED: "We had a good meeting at the combine. I guess I struck a nerve. I guess they were impressed with what they saw and what they heard. I'm just ready to play football right now."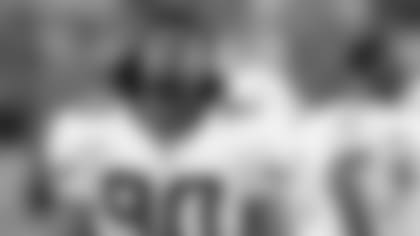 THIRD ROUND (64th overall) – DT DARNELL DOCKETT
Dockett was the first pick of the third round, a Florida State talent that many thought would go earlier only to have character questions dog him pre-draft and ultimately cost him a spot in the first two rounds. When he talked to reporters on a conference call, he insisted it didn't bother him, although the more he talked, the more it sounded like it bothered him. Dockett used it as fuel for a career that featured three Pro Bowls, a then-record-setting three-sack night at the Super Bowl, and an ironman career that had him missing just two games in 10 seasons (starting all but two of those games) before a training-camp ACL tear in 2014 wiped out what turned out to be his final year in the NFL.
QUOTE FROM THE DAY HE WAS DRAFTED: "I don't have any control of that so I really don't know. If (character) is the reason (I dropped) and like I said, it happens for a reason. I am not mad at all, not disappointed. I'm just going to show people they made a big mistake."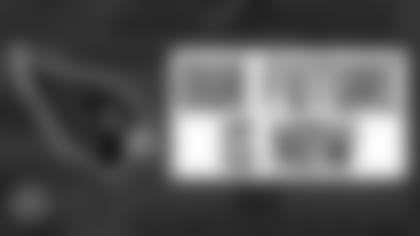 The future begins on Thursday, April 25. Use our draft central page to follow all our coverage leading up the NFL Draft and track live updates from Nashville.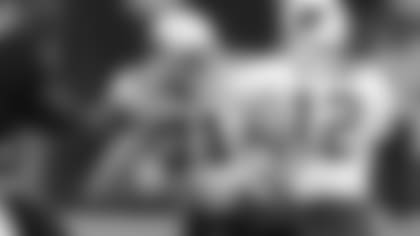 FOURTH ROUND (100th overall) – C ALEX STEPANOVICH
The second day of the draft opened with a somewhat surprising addition in Stepanovich, a center from Ohio State. Not because Stepanovich was a bad pick but because the Cardinals already had veteran Pete Kendall to play center. In fact, at the end of the offseason work, coach Dennis Green even announced at his last press conference the starting offensive and defensive lineups heading into training camp, with Kendall at center. But in Flagstaff on camp report day, the news came out the Cardinals were stunningly cutting Kendall. Stepanovich, Green said, was the team's starter at center. He ended up starting all 16 games that season, and all 30 he played as a Cardinal, although injuries limited him his last two years and he was let go when Ken Whisenhunt was brought in as coach.
QUOTE FROM THE DAY HE WAS DRAFTED: "From combine and my pro day, they've treated me great, they've never lied to me and told me what they were thinking from Day One and I'm just happy to be one of them."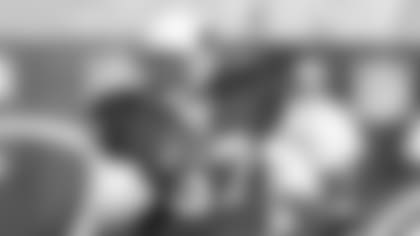 FIFTH ROUND (135th overall) – DE ANTONIO SMITH
It took a while for Smith to find his groove, even at one point getting cut and spending some time on the practice squad. But eventually the Oklahoma State product became this class' diamond in the rough. He started 39 of his 62 games in Arizona, becoming a low-key major contributor to the Cards on their Super Bowl run. The Cardinals drafted Calais Campbell in 2008 in part to be set for the following offseason, when Smith was expected to get riches in free agency. The Houston Texans came calling, and Smith even made a Pro Bowl in 2011. He ended up with a 13-year NFL career with the Cards, Texans, Broncos and Raiders, totaling 47½ sacks.
QUOTE FROM THE DAY HE WAS DRAFTED: On whether he needed coaching. "I think that is accurate. Everybody needs to be coached a little more than they think they do, and I take coaching as much as I can."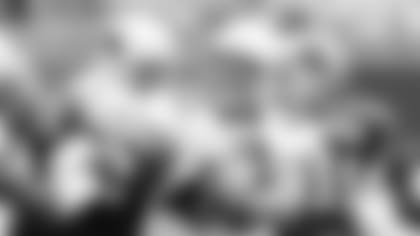 SIXTH ROUND (167th overall) – G NICK LECKEY
Leckey was a later pick from Kansas State, a guy who was going to be able to add depth at both guard and center. He didn't start any games as a rookie but played in all 16, and started 20 games the next two seasons for the Cardinals before spending his final three seasons with the Rams and Saints.
QUOTE FROM THE DAY HE WAS DRAFTED: "I think the pressure is on Alex (Stepanovich). He's their guy but I think I'm just going to go out there, do my thing. I just have to find my place."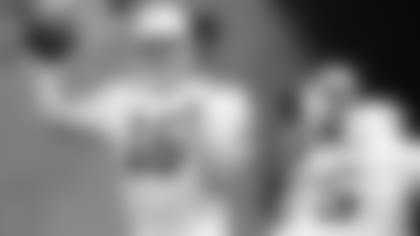 SEVENTH ROUND (202nd overall) – QB JOHN NAVARRE
Navarre was a signal-caller from Michigan, and if Green liked anything in the draft, it was players from bigger programs. Those were the guys who were prepared for the NFL, Green said. Still, Navarre came in as a rookie behind Josh McCown and Shaun King, and no one expected him to play, even as Green started moving McCown and King up and down the depth chart. Later in the season, with the Cards set to play in Detroit, Green thought it would be a good idea to try Navarre in a start, with McCown and King not giving him what he wanted. Navarre struggled to complete 18 of 40 passes and fractured his finger. He had one other appearance in relief the next year when Kurt Warner hurt his knee in Houston and McCown was too ill to play.
QUOTE FROM THE DAY HE WAS DRAFTED: "I wanted to prove to a ball club that I can play, that I was capable of winning football games and that I have the mentality and the toughness to play."