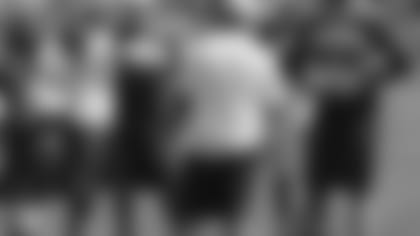 Tight ends coach Freddie Kitchens addresses his group (from R to L): Dominique Byrd, Stephen Spach, Ben Patrick, Anthony Becht and Leonard Pope.
FLAGSTAFF – The math says that all of the five tight ends on the Cardinals' roster are not going to make the team.
The coaches say every one of the five guys could still emerge as the long-term starter.
It makes for a unique situation. While coach Ken Whisenhunt seeks competition in training camp, everyone knows there is a pecking order at almost every spot. Not so at tight end, where – at least at this point – the candidates know their chances of starting and their chances of being released are about the same.
"It's a tough way to have to live every day as a player," coach Ken Whisenhunt said. "But we have seen dramatic improvement at the position. Hopefully it will sort itself out."
Each of the candidates brings with them slightly different talents and also  
things that may bring pause: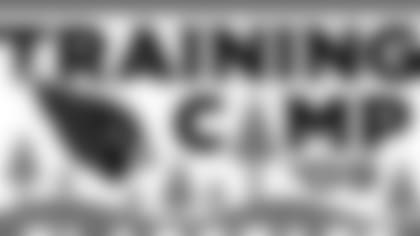 longest-tenured Card, and has made some key catches with his 6-foot-8 frame. But he has struggled as a blocker and his salary is considerably larger than the rest of the group;
Ben Patrick caught a touchdown in the Super Bowl and seemed to be the natural candidate to step forward this season. But he violated the league's policy on steroids and related substances, and must serve a four-game suspension to begin the regular season;
Stephen Spach had turned into the most consistent tight end after being picked up midseason, but he suffered a major knee injury in the playoffs against Carolina and is still working his way back after surgery just six months ago;
Anthony Becht is a 10-year veteran whose forte is blocking. But the Cards' attempt to bring in a similar player last year, Jerame Tuman, never quite worked out.
Dominique Byrd was out of football before the Cards brought him back in this summer. Byrd is known for his natural athletic gifts as a pass catcher, and Whisenhunt even said he is a little better blocker than expected. But the red flag of getting himself run out of the league remains.
"I don't think anything has changed," Patrick said. "I think I have had a fair amount of plays and I just want to make the best of the opportunity."
No matter what happens, Becht added, a group of these players will be the team's tight ends this season and they must find ways to help each other improve – even when they are fighting for spots.