Larry Fitzgerald and the Cardinals have a return date in Carolina Saturday night to play in an NFC Divisional playoff game.
Kurt Warner wasn't sure in the weeks leading up how his inexperienced team would react to appearing in the playoffs, but he sounded a lot more confident in his teammates after the Cardinals beat the Falcons in the opening round.
"I think they came to understand that this is it – we didn't just play just to get in, so now let's do something," the Cardinals' quarterback said. "It's great to get that bug and understand you're one step closer to the Super Bowl."
The Cardinals found out Sunday afternoon where their next step would be, when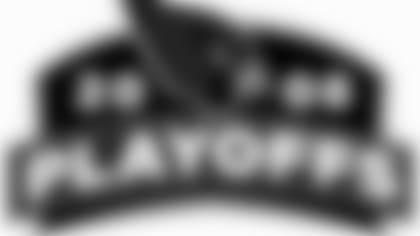 Philadelphia beat Minnesota, 26-14. The result means the Cards must travel to play the Panthers in Carolina Saturday night at 6:15 p.m. Arizona time.
The Panthers are 8-0 at home this season.
The Cardinals traveled to Carolina in Week 8, losing 27-23 after building a 17-3 lead. In wide receiver Anquan Boldin's first game back after breaking his jaw in New York, the Cards watched the Panthers stack the line to prevent the run and decided to lean on the pass. Warner threw 49 passes on the day, completing 35 for 381 yards and two touchdowns, but also threw a crucial interception late in the game.
The Panthers sealed the game when the Cards couldn't prevent Carolina from converting three third downs and running out the final 5:57 of the game.
No matter who the opponent was going to be, the Cardinals were going to be considered heavy underdogs.
"I like being the underdog," coach Ken Whisenhunt said after his team beat the Falcons.
"We're going to keep a humble head and we're going to keep working and stay out of the media," defensive tackle Darnell Dockett said. "We'll let everyone put their predictions out there and we're just going to get in the lab and keep working."
Saturday night, the Cardinals mostly avoided talking about a preference between the Panthers or the Giants.
"It doesn't even really matter," wide receiver Larry Fitzgerald said. "We are just excited to be going into the next round. We have played both of those teams, so we have a little bit of experience with both of them."