J.J. Watt is many things, including a millionaire, a household name, a charitable person, and one of the greatest pass rushers in NFL history.
But among Watt's most prominent qualities is his superhuman work ethic, and it's why Kliff Kingsbury won't be surprised if the five-time Pro Bowler and three-time Defensive Player of the Year returns this season from a bad shoulder injury that landed him on Injured Reserve.
"You can't count him out," the Cardinals coach said. "He's a machine, and he's been working like crazy. I'm never up here when he's not up here doing some sort of rehab. And today, he was out there on the field running. So, you never know with him."
Watt was seen doing some conditioning with an athletic trainer during the open portion of practice. Shortly following practice, Watt tweeted a quote from Albert Einstein, one of the greatest physicists of all time, regarding his mindset following shoulder surgery in October: "Only those who attempt the absurd can achieve the impossible."
Given Watt's injury, it is understandable why people would doubt his efforts to return this season. After Watt suffered the injury Week 7 against Houston, NFL Network reported Watt tore his labrum, bicep, and rotator cuff in addition to dislocating his shoulder. The expected timetable of such a recovery would be three months, which would end his first season in Arizona early.
But Watt has done the unexpected before. After suffering a torn pectoral muscle Week 8 in 2019, Watt underwent surgery and was not expected to return until the start of the 2020 season. Three months later, Watt was in uniform for Houston's Wild Card playoff game against Buffalo.
If it happens again, the Cardinals' defense, which ranks top five in the NFL through 13 games, would receive a considerable boost.
Like Kingsbury, general manager Steve Keim said he would not be surprised if Watt returns for their 2021 postseason run.
"The guy is a relentless worker, he's a relentless player, he's passionate about the game," Keim said two weeks ago. "I would not bet against him."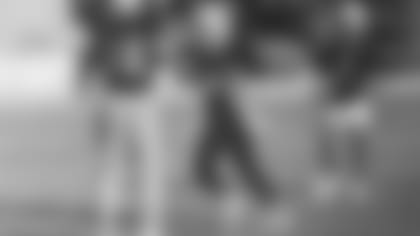 THE ADDITION OF TRACE MCSORLEY
In his senior year at Penn State, quarterback Trace McSorley had 2,530 passing yards, 18 touchdown passes, and seven interceptions, along with rushing for 798 yards and 12 touchdowns. He also caught the eye of the Cardinals.
Kingsbury was impressed with what he saw and has kept his eye on the quarterback ever since.
"He's played in the league, he was a winner in college, and has a nice skill set for our offense," Kingsbury said. "Throws the ball well and can move and do different things. We had a high grade on him coming out (of Penn State), and when we had the opportunity to get him in the back-half of the season, we thought it was smart to evaluate him and let him learn our system moving forward."
The Cards signed McSorley off the Ravens' practice squad, cutting Chris Streveler to do so. Streveler subsequently signed to Baltimore's practice squad to take the vacancy left by McSorley, a sixth-round pick of the Ravens in 2019.
PUGH WILL BE GAME-DAY DECISION
While Kingsbury is still hoping starting left guard Justin Pugh can play Sunday, he didn't practice Wednesday with his calf injury and will be a game-day decision in Chicago.
After the bye week, Pugh was the only Cardinal who did not practice because of injury. Center Rodney Hudson and tackle Kelvin Beachum each sit with veteran rest days. Limited were wide receiver DeAndre Hopkins (hamstring), who practiced for the first time since before the Texans game in Week 7), quarterback Kyler Murray (ankle), and safety James Wiggins (knee).
For the Bears, rookie quarterback Justin Fields was limited with his ribs injury; it's unknown if Fields or Andy Dalton will start Sunday. The Bears also had a host of players sitting out: defensive end Mario Edwards (ribs), wide receiver Marquise Goodwin (foot/ribs), defensive tackle Akeim Hicks (ankle), linebacker Sam Kamara (concussion), tight end Cole Kmet (groin), wide receiver Allen Robinson (hamstring), linebacker Roquan Smith (hamstring), and running back Damien Williams (calf).