Wide receiver Larry Fitzgerald stretches for a touchdown as some of his franchise-playoff record 166 yards receiving in Carolina last weekend.
Larry Fitzgerald was in his customary end of game spot on the sideline – nearest the locker room – as the time ran down in Carolina when offensive coordinator Todd Haley approached.
Fired up, Haley congratulated Fitzgerald on his huge game, which had propelled the Cardinals to a playoff win. Then Haley had a message for the star wide receiver.
"Big players come up big in big games," Haley emphasized. "And we have another one in a week!"
Before the season, Fitzgerald had already been named to two Pro Bowls, had a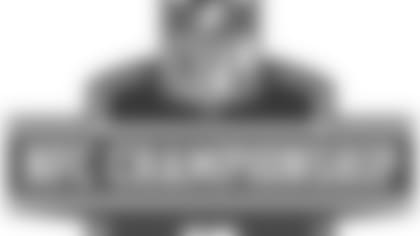 100-catch season and was regarded as one of the best receivers in the league. Before the playoffs started, Fitzgerald had already earned a third Pro Bowl trip and his 96 receptions for 1,431 yards and a career-high 12 touchdowns.
Then Fitzgerald was put into the spotlight of the postseason, and the NFL world realized just how good Fitzgerald had become.
There was the flea-flicker touchdown catch over two defenders against Atlanta. There was the jump-starting juggling bomb caught over two defenders in Carolina. There was a total of 14 catches for 267 yards and two scores, all while dealing with defenses that mostly didn't have to worry about the Cardinals' other Pro Bowl receiver, the injured Anquan Boldin.
Fitzgerald was a big player playing big in big games.
"I think all great players want center stage," Haley said. "They may not want it on the full-time basis, like some guys in this day and age that want to be on TV … but when the game is on, whether it's in the parking lot or the championship game or the Super Bowl, they want the ball in their hands.
"Larry is a classic case of that. If it's going to come down to that, he wants the team on his back."
Boldin has played a little more than a quarter in the Cardinals' last four games. He sat out the final two regular-season games, appeared briefly in the Wild Card game against Atlanta – catching a 71-yard touchdown pass himself before injuring his hamstring – and then sat in the Divisional playoff game against Carolina.
"I guess they didn't watch the film from the first game," Boldin said.
Fitzgerald, who had two touchdowns against the Eagles in their first meeting, realizes he will be better off if Boldin can play Sunday.
"When you get a player like that back in your lineup, it just opens up the playbook and makes the defense pay attention," Fitzgerald said.
But at this point, even a 100 percent healthy Boldin wasn't going to draw the Eagles as much as the red-hot Fitzgerald.
"You have to have four eyes on him at all times," Eagles cornerback Sheldon Brown told Philadelphia reporters. "There's no doubt about that. Double team him. Triple team. You want to put six on him? We have to make sure he's not a guy who beats us."
Eagles coach Andy Reid was asked to whom Fitzgerald compared historically, and Reid turned the question.
"I think when it's all said and done, we'll be trying to compare people to (Fitzgerald) and not him to other people," Reid said.
Fitzgerald came into the season looking to get better. He wanted to improve his route-running. Haley insisted on working on yards-after-catch. Both Fitzgerald and the coaches felt his potential had not been close to being reached, despite his gaudy statistical totals.
Fitzgerald has long been driven to be one of the NFL immortals – "If you're playing this game and you don't want to be the best, I don't understand what your motivation is," he said – and it is a playoff stretch like this that can help his case.
"These are the games that define his career," Haley said. "These last two games, which are undoubtedly the biggest of his career, he's played his best football. Especially missing Anquan and knowing the focus would be on him, he really stepped up."