Cardinals VP & General Counsel Michael Bidwill, Phoenix Mayor Phil Gordon, NFL Commissioner Paul Tagliabue, and Cardinals Chairman & President Bill Bidwill
NFL Commissioner Paul Tagliabue was in Phoenix on Thursday (June 15) and attended a reception co-hosted by the Arizona Cardinals and the Arizona Super Bowl Host Committee at the Royal Palms Hotel.
"We are pleased to be here," said the Commissioner. "There are three things that we have really been talking about today. One is the stadium, two is the team and three is the Super Bowl. Each of these subjects is a source of great excitement and great energy. It looks like everything is very positive on all three fronts."
Prior to the his arrival at the evening reception, the Commissioner along with a number of the NFL's front office staff had the opportunity to tour the new Cardinals Stadium with Cardinals Vice President and General Counsel Michael Bidwill.
"It is a great honor to have Commissioner Tagliabue here," stated Bidwill following the stadium tour Thursday afternoon as he welcomed the Commissioner and several other guests to the Royal Palms.
Other members of the Cardinals organization in attendance included Chairman and President Bill Bidwill, Head Coach Dennis Green, Assistant Head Coach Frank Bush, Defensive Coordinator Clancy Pendergast, Offensive Coordinator Keith Rowen, and Vice President of Football Operations Rod Graves.
The Commissioner was very complimentary of the distinctive architecture of the Cardinals new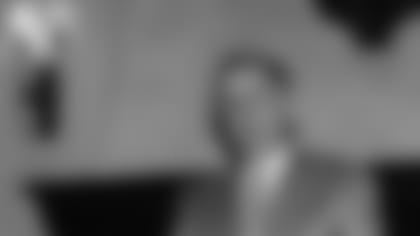 "The design is so bold, so striking and so in tune with the landscape out there," commented Commissioner Tagliabue on the stadium design. "I think that it is not only going to be a fun place but a wonderful place to play the Super Bowl."
One other element of the new stadium Tagliabue was impressed with was the stadium lofts.
"They are unique and I think they really fit in with the lifestyle here," added Tagliabue. "They're fun and they're fresh and you feel like you're in a football stadium with a lot of energy."
The Commissioner went on to talk about the excitement the surrounds the Cardinals this season with Kurt Warner, the recent signing of running back Edgerrin James as well as drafting quarterback Matt Leinart and having two high caliber receivers in Anquan Boldin and Larry Fitzgerald.
"It is such a nice thing that the excitement around the stadium and the upswing around the team is coming at the same time," added the Commissioner.
The enthusiasm continues to build as the first preseason game of the inaugural season at Cardinals Stadium is less than two months away and the Cardinals and the NFL are looking forward to several accomplishments in the new state of the art facility for both the Cardinals and future Super Bowls.