Offensive line coach Russ Grimm talks to his starters: (clockwise from bottom right) Lyle Sendlein, Reggie Wells, Mike Gandy, Levi Brown and Deuce Lutui.
Lyle Sendlein knows Reggie Wells is just going to push him a bit. Literally.
On the other side, though, Deuce Lutui is going to give Sendlein a fairly hefty shove.
These are the among the things the Cardinals' center understands are coming from both Wells, who lines up at guard on Sendlein's left, and Lutui, who lines up at guard on Sendlein's right. Those are the things you learn after playing snap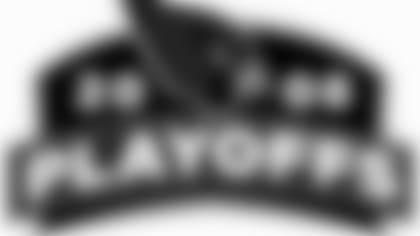 after snap, game after game, week after week, with the same players.
"It's a luxury to go through so many battles with a guy," Wells said.
The Cardinals are entering their 18th game of the season Saturday night when they play Carolina in an NFC Divisional playoff game. They are entering the 18th game of the season with the exact same offensive line.
Sendlein at center. Wells and Lutui at guard. Mike Gandy and Levi Brown at tackle, left and right respectively.
It's not easy to sustain such a concrete lineup. Offensive line coach Russ Grimm, a Hall of Fame finalist from his own days playing on the offensive line for the Washington Redskins, said he rarely had the luxury.
Conditioning and offseason training play a role, Grimm said, but so does luck.
The Cardinals are one of only six teams this season to play the same offensive line the entire season, joining the Giants, the Jets, Denver, Houston and Chicago.
"You can't just throw someone into a new situation and expect them to be able to handle it," Brown said. "For us to be able to stick together, it has really helped us.
"Because of the nature of our position, you don't get a lot of glory, so you count on each other to know if you are playing well or not."
The continuity is an important factor for coach Ken Whisenhunt. It was a main reason cited during the couple of times this year when changes were considered – especially when Whisenhunt said backup Elton Brown was pushing Lutui.
But other than Gandy coming out of a game briefly with a sprained ankle and Lutui missing a few snaps here and there, the quartet has remained together.
"It is one of those unique positions where how well you do is a reflection how well the guys next to you are playing," Gandy said. "Going through the ups and downs of this year I think it has definitely gotten us closer together. We have been together through the thick and thin."
There has been some thin. As the Cardinals leaned heavier on the pass and got away from the running game – and much of any run production – the line absorbed shrapnel from the critics.
Whisenhunt has praised the unit all season not only for its pass protection – quarterback Kurt Warner was sacked 26 times with 598 pass attempts – but also for accepting its role as pass blockers first and often.
Grimm smiled at the idea some of the lineman had asked about running the ball more in the playoff win over Atlanta – "You're a lineman, you want to run, that's the bottom line," he said – but there is little question the Cards' re-commitment to running the ball more the past two games has helped the group's play.
Warner even said the "biggest benefit" to the Cards' improved run game is to the offensive line.
"We have been no stranger to negativity," Wells said. "But I give this group credit. We go out and play ball. Things aren't always perfect, but this group fights for everything we get."