Quarterback Matt Leinart fires a throw at targets during Monday's practice.
FLAGSTAFF -- New drills for the Cardinals quarterbacks this season have turned into new entertainment for the fans at training camp.
Tossing balls at nets with various holes, at colored targets and sometimes at trash cans, the Cards' QBs have generated surprising enthusiasm – and the quarterbacks have noticed.
"It's competition and it is fun doing those things," quarterback Matt Leinart said. "The biggest thing is it gets the crowd fired up. That's the funniest thing. When we hit those flags, (a coach) will tell us a color and sometimes we'll miss and hit the other one and they think we're like the greatest quarterbacks ever. Little do they know sometimes we're missing pretty bad."
There is, not surprisingly, a method to the madness.
"It is a lot of fun, but you are working on technique," coach Ken Whisenhunt said. "Throwing those balls in the red zone, a lot of those times they are in a constricted area and there are touch passes involved. You are throwing over defenders and you have to throw to spots in the end zones.
"How many times have you seen Larry (Fitzgerald) go up and make a catch? Well,
[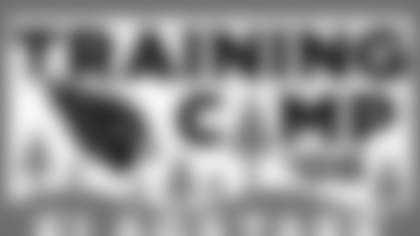 ](http://www.azcardinals.com/news/training_camp.php)
part of that is throwing the ball in the right spot. When you are throwing at buckets, throwing at targets, you aren't just working on your footwork, it's actually getting set and using those targets to throw with touch."
It isn't all fun, though. Sunday, Leinart was maneuvering around bags during the net drill when he tripped and fell in a less-than-graceful turn of events.
"It was a little embarrassing moment but it's all good," Leinart said with a grin. "It happens to everybody."
Unlike last season, Whisenhunt sounds inclined to keep three quarterbacks on the roster. He praised the knowledge of veteran third quarterback Brian St. Pierre, who is the heavy favorite to keep that spot over rookie Anthony Morelli.
The Cardinals lost Leinart and Kurt Warner to injuries in back-to-back weeks, forcing newcomer Tim Rattay to play in a crucial home game against Carolina in which the Cards were upset.
"Last year, there were lot of issues about us only keeping two," Whisenhunt said. "Well, that's because there were only two quarterbacks that were worthy of keeping on the team. This year is a little better situation. Hopefully you won't need a third quarterback, but obviously last year, we did."
From the time wide receiver Early Doucet was drafted there were comparisons to new teammate Anquan Boldin. Leinart became the latest when he was talking about the rookie Monday.
"I think he is a perfect mold of Anquan, same type of body, same type of play," Leinart said. "I think it is perfect for him to learn from a guy like that."
Center Al Johnson, experiencing some soreness in his knee, had it drained and sat out both practices Monday. He will be day-to-day. Receiver Anquan Boldin (hamstring) and cornerback Marcus Brown (hamstring) remain day-to-day. Whisenhunt said he hoped Boldin could return "in the next couple of days." …
With tight end Troy Bienemann (toe) still out, the Cards are exploring signing another tight end. They worked out former Arizona State Sun Devil Brent Miller Monday. * * * Contact Darren Urban at askdarren@cardinals.nfl.net. Posted 7/28/08.
This article has been reproduced in a new format and may be missing content or contain faulty links. Please use the Contact Us link in our site footer to report an issue.