Undrafted wideout Lance Long runs a route in practice this week.
FLAGSTAFF – Lance Long's spot on the depth chart probably isn't much higher right now than it was this summer, when the undrafted rookie wide receiver first signed with the Cardinals.
But the 5-foot-11, 186-pounder from Mississippi State has seemingly made every catch thrown to him in training camp. With the wide receiving corps beyond Larry Fitzgerald and Anquan Boldin a "free-for-all" battle for the third receiver spot, Long might just have a shot to sneak on the roster.
"I think he's opened the eyes of a lot of guys," quarterback Matt Leinart said. "I talk to the DBs and they hate covering him. He is so quick."
Long insists he doesn't contemplate much past the next practice.
"If I start thinking about making the team or counting numbers, I am going to start messing up," he said.
There are mistakes Long makes in practice, the downfall of trying to learn each of the receiver positions. Long also must find a spot on special teams – he is taking
[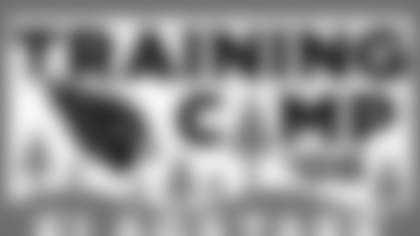 ](http://www.azcardinals.com/news/training_camp.php)
some reps as a punt returner, playing gunner on punt coverage and covering kickoffs.
Coach Ken Whisenhunt said Long is "in the mix" at receiver – not bad for a guy whom many scouting services didn't even list as a draft-worthy guy – and has been impressive.
"He has shown up, consistently made plays and has been exciting to watch," Whisenhunt said. "But you have to temper that with that he hasn't played in a game yet. That's going to be the real test for him."
Long grins when he thinks about his first NFL preseason game next week against New Orleans. He is anxious to get that chance.
"Every opportunity that comes my way, whether it's a ball low or high, I try to sell out for it," Long said. "I know every opportunity is a key here."
JOHNSON HAS SURGERY; PETERS DONE
Starting center Al Johnson had surgery Friday to clean out his troublesome left knee, Whisenhunt said. The Cards are hoping Johnson can return for the start of the regular season, although no timetable has been attached to Johnson's comeback, Whisenhunt said.
With third-string center Scott Peters done for the season after hurting his knee in Thursday's practice, the Cardinals put Peters on injured reserve and claimed center Pat Ross off waivers from Carolina. Ross has been with the Colts, Seahawks and Patriots since arrived in the league undrafted in 2006.
Backup center Lyle Sendlein, who started two games in Johnson's place last season, will move into the lineup. The only other center is undrafted rookie Hercules Satele.
Leinart acknowledged changing centers does have an effect on the exchange with the QB.
"You get used to a guy, whether it is Al or Lyle," Leinart said. "It does have an effect. It's more mental than anything. You can't ask for too much – guys go down – but you do like to have the same guy."
The MRI for receiver Anquan Boldin came back showing no extra problems with his sore hamstring, Whisenhunt said. Boldin, who still must go all out to test the recovering hammie, is expected to return to practice next week.
The Cardinals will have their annual Red and White practice Saturday preceded by an official autograph session. The autograph session, for children ages 17 and under only, will run from 10:45 a.m. to 11:10 a.m. The practice begins at 11:15 a.m., and will conclude around 1 p.m. with a live goal line drill, offense versus defense.
After that, the players do not practice again until Monday morning.
A handful of veterans, including safety Adrian Wilson, linebackers Chike Okeafor and Bertrand Berry, defensive tackle Bryan Robinson, tight end Jerame Tuman and running back Edgerrin James were excused from having to practice Friday afternoon.
Linebacker Clark Haggans (groin) and fullback Dionte Johnson (sprained ankle) were out. Receiver Early Doucet strained his hamstring at the end of the morning workout and missed the afternoon practice.
Cornerback Eric Green, excused since Thursday afternoon for personal reasons, was still absent.
This article has been reproduced in a new format and may be missing content or contain faulty links. Please use the Contact Us link in our site footer to report an issue.