To the victors go the spoils, right?
OK, ultimately, the Cardinals didn't win the Super Bowl, but they were winners, and that's when the awards come in. Monday, the awards were from the Pro Football Writers Association – a group I was once part of – when they gave the Rozelle award (for the NFL's top media relation staff) to the Arizona Cardinals' quartet.
Big kudos for vice president of media relations Mark Dalton (far right in the picture below, when the MR staff was organizing right after the team arrived in Tampa for the Super Bowl) and his staff (from right to left in the photo) Mike Helm, Chris Melvin and Nate LoCascio. (Media relations administrative assistant Amber Kelley gets a shout out too). They work stupid hours during the season, but I suppose that's the job. They earned this honor.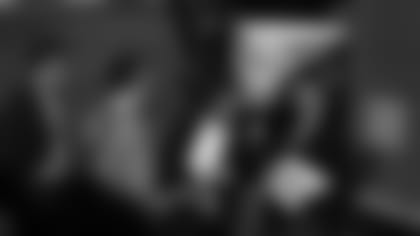 Oh, and that reminds me – quarterback Kurt Warner won a PFWA award as well, just another blue ribbon on his shiny résumé. Warner was given the "Good Guy" award to the player in the entire NFL who best helped the media do its job (I second that, too, by the way. Warner is a reporter's gift from the heavens, both in his thoughtful, honest answers and his accessibility).
"I've been around long enough to understand the important role the media plays in the popularity and success of the NFL," Warner said in a statement. "I've always appreciated the job that journalists do, as well as the amount of pride and effort they put into their work, and I'm grateful to the PFWA for this honor."