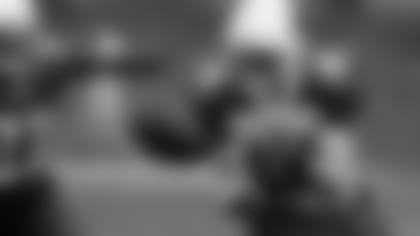 Jerheme Urban (85) is fighting to retain his spot as the Cards' fourth wideout

FLAGSTAFF – Jerheme Urban isn't one of the top three wideouts on the roster, not when those spots are filled with a couple of perennial Pro Bowlers and a guy who had almost as many receiving yards last year as Urban has in his whole career.
Urban doesn't have the pedigree of third-round pick Early Doucet, or even the fresh-faced underdog story of Lance Long.
What he does have is six years in the NFL already and, after a slow start, an ascending career arc since arriving in Arizona. He also has had a noticeably good first week of camp, underscoring the difficult decisions ahead for a
Click the above logo for all the Cards' camp info.
coaching staff when it comes time to pare down the wide receiver corps. Sometimes, it's Urban who is forgotten among the names, but that's OK with him.
"I feel like I have put a lot of hard work to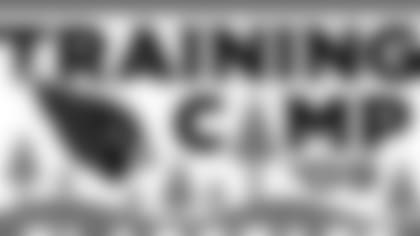 get to this point and I am going into my seventh year," Urban said. "But I have come to realize having that stuff is good. It keeps me constantly reminded there are young guys constantly after my job and there are going to be more (noted) players on the field. But I feel good. Preseason games will mean a lot, but right now, I feel good."
Urban, pulled off waivers from Dallas in 2007, pulled in 22 catches for 329 yards that season, easily career-highs. He also had problems with some drops, and his future wasn't secure. But after Breaston won the third receiver job in last year's camp, Urban was able to outdistance Doucet – who, like this year, was slowed by a training camp injury – and remain the fourth wideout.
Urban upped his numbers to 34 receptions, 448 yards and four touchdowns, solid numbers for a No. 4 wideout. He also emerged as major contributor on special teams, with nine tackles. The special teams aspect is crucial for any of the receivers below Anquan Boldin and Larry Fitzgerald; the other receiver in the mix is Pro Bowl special teamer Sean Morey.
"You have to stay low-key though, because it's a marathon," Urban said. "I didn't have a catch (Wednesday) night for the first time in camp, so you will have days where you get a lot of balls thrown at you and some you don't for some reason. You have to stay the course and keep things in perspective."
A year ago, Kurt Warner was in training camp competing with Matt Leinart for the starting job and knowing – at least at that point – Leinart remained the man on top of the depth chart. The battle went on for almost all of the preseason.
This year, there is no such battle after Warner's Pro Bowl year. The biggest question surrounding Warner – no, it's not the sore hip that ultimately will not be a problem – is how many preseason snaps he will take to ready for the season.
"This year is definitely different," Warner said. "Last year there were moments of frustration wondering if you were going to get an opportunity and wondering what you have to do. It wasn't just, 'How do I focus on what I need to do to get better,' it was, 'What do I need to do to prove to them?' It was frustrating because there were times when I thought I had a good practice but it didn't seem to correlate to anything. Right now, it's all football."
Defensive end Jason Banks was placed on injured reserve Thursday after needing surgery to repair a meniscus tear in his knee. To replace Banks on the roster, the Cardinals signed rookie defensive lineman Alex Field, who spent part of the offseason with the Giants after going undrafted. Banks was running third-string. Of bigger concern is backup defensive end Keilen Dykes, who Whisenhunt said has a quad strain.
"I would anticipate it'd be more than a couple-of-days thing," Whisenhunt said.
After the intense hitting of Wednesday night's practice and with another heavy practice Saturday, Whisenhunt backed off Thursday and let the players wear shorts and baseball caps for practice. …
Linebacker Chike Okeafor was back out at practice Thursday after missing a few days with a bad back, as was receiver Sean Morey, who had a tight hamstring Wednesday night. Remaining out were running back Beanie Wells (ankle), receiver Early Doucet (shoulder), tight end Anthony Becht (hamstring) and fullback Dan Kreider (hamstring).