Expect Kurt Warner's playing time to be limited in the preseason, which wouldn't be different than the last two seasons.

FLAGSTAFF – In a quiet camp, with a Pro Bowl quarterback, a sore hip will remain at the top of the headlines.
But the subject isn't serious enough that coach Ken Whisenhunt can't make a couple of jokes toward Kurt Warner and Warner's surgically repaired hip. When the idea Warner might look like he favors the hip at times, Whisenhunt quipped,"Kurt goes through so many gyrations sometimes it's hard to always separate those, especially when we call a bad play or somebody goes the wrong way."
What it might mean for Warner and Warner's playing time in the preseason,
"Kurt is going to be banging on me to play as much as he can," Whisenhunt said. "We just want continuity with the first group."
Warner said he doesn't expect to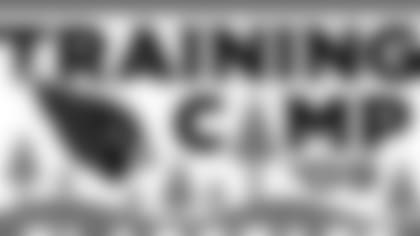 play a lot because Whisenhunt hasn't allowed Warner to play much the past two preseasons, "but it doesn't have anything to do with my hip."
"I leave it up to the coaches," Warner said. "They know how much I want to play. I know they want to keep me healthy."
Warner just wants to get into a rhythm that isn't practice. He and the Cardinals got a taste of that with the situational drills Whisenhunt conducted in Saturday's Red and White practice, and it only intensifies in games – even in the preseason.
"What you do in third-and-short is different than first-and-10," Warner said. "That is what is great about games. You have to worry about the 40-second clock … all those little things you don't have to worry about in practice. In practice, it doesn't matter how many times you screw up, you can always come back to the line of scrimmage and do it again."
Whisenhunt said Warner must be feeling better, judging by the way Warner finished off Saturday's work. Warner threw four touchdown passes during four series beginning at the defense's 25-yard line.
"He caught fire," Whisenhunt said. "He is really moving well in the pocket and that is exciting to see. He told me he will have a couple of scampers for first downs this year so I will hold him to that."
Wide receiver Anquan Boldin sat out the morning practice Monday with what the Pro Bowler called "maintenance." Whisenhunt said Boldin just had a little mild swelling on his knee, but "we all know how tough Anquan is."
"He has been working hard and I certainly respect what he has done in camp the first 10 days," Whisenhunt said. "For him to have a day off is not something I am concerned about."
Boldin did return to work in the afternoon practice.
Running back Beanie Wells said he has done some running and cutting, although Wells still looked like he was favoring his sprained ankle later in practices when he rejoined the team after rehab. Whisenhunt said it's possible but "not greatly possible" Wells will play against the Steelers but "I would like to see if he could go at least from the standpoint of going through warm-ups and getting the whole pregame routine down."
Whisenhunt reiterated that he thought there was enough time left in camp and the preseason that Wells will have time to prepare for the season once he returns.
Whisenhunt said backup left tackle Elliot Vallejo did not have ligament damage to go with his dislocated left kneecap. While Vallejo is on crutches, Whisenhunt said the injury is "not an eight-to-10-week injury" and there is hope, with rehab, that Vallejo could still play in the preseason. While he is out, Oliver Ross – who had been the backup right tackle – will take snaps to replace Vallejo, while Brandon Keith, who had been working at guard, will also be in the mix. …
Whisenhunt moved Tuesday's practice earlier, to 12:45 p.m. The Cardinals will conduct their walk-through Wednesday at the team's Tempe facility early, given the long flight that day to Pittsburgh. …
Linebacker Chike Okeafor returned to practice after missing about a week with a bad back. Tight end Anthony Becht (hamstring) and defensive lineman Keilen Dykes (quad) remain sidelined. Becht was limited in the second practice of the afternoon. ...
Wide receiver Early Doucet (shoulder) caught some passes at the first part of practice, said his shoulder is much better, and said playing in the second preseason game against the Chargers was the goal.