Coach Ken Whisenhunt was back at practice Tuesday, bringing with him a new twist to the ongoing offense/defense OTA competitions. As a quick recap, the offense won the punt-catching competition the first week; the defense won the next week during a field-goal kicking contest (thanks to DL Rodney Leisle, who was the only guy who could make a 25-yarder out of all the players who tried). So in the last such battle of the offseason today, Whisenhunt came up with this gem: a player had to hold a ball as a JUGS machine esentially shot a football pop fly high into the air. The player had to throw the ball he was holding in the air before catching the pop fly, catch the pop fly, and then catch the ball he had thrown before it hit the ground. Not so easy.
The offense came away with the win when Sean Morey -- diving to the ground to secure his second catch -- was the only guy to pull it off (and he went first). Ben Patrick came the closest of the rest, but the ball got away at the very end: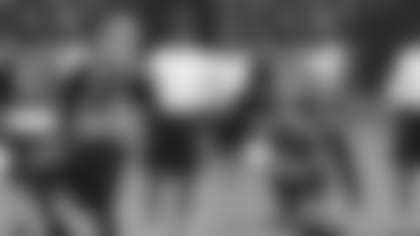 That battle was the highlight of the OTA. AT this point, the players are getting a little bit of "senior-itis" when it comes to the end of the offseason work. More than one wandered past the media to the locker room today mentioning that there were only two more scheduled days.