Wanted to mention a couple things here on Sunday night, before the big draft countdown week.
-- Coach Ken Whisenhunt went back to Augusta – his hometown – for a second straight weekend. The week before it was to take in the Masters. This time it was to receive a handful of awards he said he would "treasure forever."
Whiz went back to be the keynote speaker for an annual Boy Scouts fundraiser, but he was surprised when the city leaders named it "Coach Ken Whisenhunt Day" April 16th. Whiz's high school, Richmond Academy, retired Whiz's No. 12 jersey number. He was also given a key to the city and named an honorary city engineer – which made sense because Whiz has a engineering degree from Georgia Tech. Whiz also was honored by the city's minor league baseball team (the Augusta GreenJackets – get it, the Masters?) which is owned by baseball Hall of Famer Cal Ripken, Jr. (And below is a picture of Whiz, Ripken and young Virginia Cassell).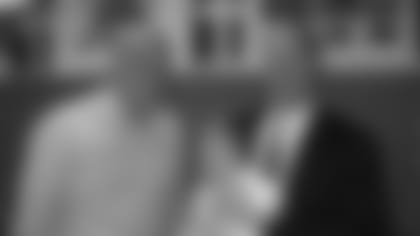 -- On a much more somber note, the girlfriend of running back Edgerrin James and the mother of his four children, Andia Wilson, has passed away after battling leukemia.