Fullback Terrelle Smith, here suffering some anxious moments in the Cardinals' Wild Card win over Atlanta, expected a home date in the NFC title game thanks to his mom.
Terrelle Smith's mother passed away the week prior to the Cardinals' December loss to Minnesota, but before she died, she told the Cardinals' fullback she had a dream about his team.
"Son," Smith said his mother told him, "you are going to play the NFC Championship at home and go to the next step."
Smith stood in the Cards' locker room Monday telling the story, saying he had expected the Cardinals to be hosting Sunday's NFC Championship game because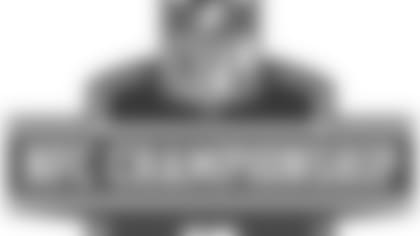 "I know she is up in heaven looking at me, so I've got to do what she asked me to do," Smith said. "There will not be one person to step out of the locker room Sunday not ready to play.
"This is personal. This is everything you wish for, everything you hope for."
The Cardinals reconvened Monday after a day of rest, having filtered the events of the weekend. The team got back to its Tempe facility from Carolina about 4:30 a.m. Sunday morning – with a handful of fans waiting for them – and then waited Sunday to see who their NFC Championship opponent would be.
"That's not something that happens very often – to sit there on Sunday and know you're playing next week in the championship game no matter what," coach Ken Whisenhunt said.
When the Eagles pulled off the upset in New York, the Cards ended up with an improbable home game, the biggest reason many players were openly pulling for Philadelphia.
"If it is anywhere near the (excitement of the) Wild Card crowd it will be a plus for us," wide receiver Jerheme Urban said. "It's our home stadium. We like to try to defend that turf."
Said quarterback Kurt Warner, "Whatever advantage (home field) paints to every team, we've got it, and we know against this football team we need every single advantage we can get."
The Eagles are one of the hottest teams in the NFL, a streak that started when the Cards visited Philadelphia Thanksgiving night and were beaten badly, 48-20. The Eagles are 6-1 beginning with that victory.
That's a major reason the Eagles, despite being on the road, opened as a three-point favorite in the game. The Cardinals will still be able to fuel their drive with the "We're disrespected" angle, and that actually may be the best thing for a team that has succeeded because of it.
"We know will still be the underdog, even at home, because of the last time we went to Philly and got our tails kicked," defensive tackle Bryan Robinson said. "We're OK with being the underdog. It seemed to light a spark under us."
Whisenhunt said he wants to try and avoid distractions in a week in which the media spotlight will only grow as game day approaches. Players were careful to insist they have given no thought to a Super Bowl, only to finding a way to topple the Eagles.
Even Smith talked about his focus on the next game and nothing more.
But his mom's message won't be forgotten.
"She said I would dedicate a Super Bowl win, if we win it, to my (late) father, but now she is up there with my father," Smith said, his eyes welling up a bit.
"It gives me the chills even when I talk about it. But, hey, that's the way it goes. Hopefully we'll get it done."