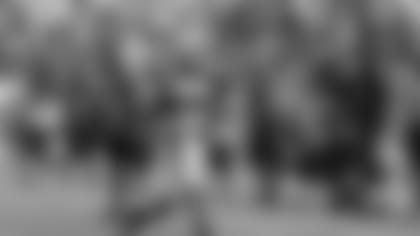 LeRod Stephens-Howling scores a touchdown during last week's Red and White practice during training camp.

FLAGSTAFF – LeRod Stephens-Howling deflected talk about getting more reps because fellow rookie Beanie Wells was injured, or what kind of camp he has had.
"I am looking for a job just like everyone out here," Stephens-Howling said.
The Cards' first seventh-round draft pick – guard Trevor Canfield was the other – is one of the forgotten men of the offseason. A lingering hamstring injury kept him off the field a good portion of the voluntary workouts, and the smaller (5-foot-7, 185 pounds) running back hadn't really shown much until camp.
But he has caught the eye of camp observers and coach Ken Whisenhunt, who said he has been impressed with the man who up until now was best known in Cards' circles for his emotional draft day conference call.
Making the team will be difficult for Stephens-Howling, since the Cards will keep Wells and Tim Hightower and probably veteran Jason Wright as their top three backs.
Stephens-Howling said he feels he has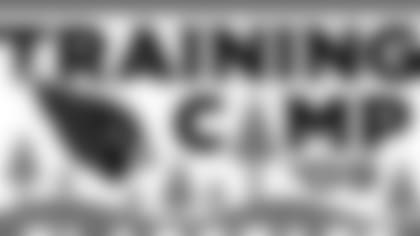 gotten "back on track" since missing so much time in the summer. He's had a bumpy road, gaining almost 900 yards as a sophomore at the University of Pittsburgh as a sophomore in 2006 before being relegated to a secondary role behind LaSean McCoy the past two seasons.
McCoy was drafted by the Eagles in the second round, so when Stephen-Howling also got drafted, it caused some tears.
He doesn't want emotions to get to him now, though, even as the Johnstown, Pa., native returns to play his first NFL game Thursday in the same stadium he played at in college.
"I'm right back home. It is crazy," Stephens-Howling said. "It will be an amazing night. I can't even explain it, the emotions I am feeling right now. But I have a job to do. I am an NFL player, so I can't be star struck and not believe I am there. I am here and I have to take care of my job."
Whisenhunt said the importance of the preseason – especially the first game – wasn't just about how the team plays. It's also the mechanics of putting on such a game, including the pre-game rituals.
"We actually spend part of our walkthrough time Wednesday morning before we go on just that, where do you line up, where do you stretch, what drills do you do," Whisenhunt said. "(For players) just to get re-acclimated to it. Especially for the youngsters who have never done it before, what we want them to do."
The game Thursday will be the first time Ken Whisenhunt has been back to Pittsburgh for a game since taking over the Cardinals' job and leaving the Steelers' staff.
"It'll be fun," Whisenhunt said. "It will be interesting to see it from a different perspective."
He said he had no special plans, other than to meet so former neighbors for lunch or dinner.
Whisenhunt ruled three players out for sure for the Steelers' game: tight end Anthony Becht (hamstring), wide receiver Early Doucet (shoulder) and tackle Elliot Vallejo (kneecap dislocation). He didn't say for certain on Wells (ankle) or defensive end Keilen Dykes (quad strain), but it would be a surprise to see either play. Wells did run sprints with the team at the end of Monday's practice, but he did not practice Tuesday.
All five players sat out practice Tuesday afternoon.
Whisenhunt said playing time will be determined "how it goes." The starters will play a couple of series, Whisenhunt said, and then it will be reevaluated. …
Whisenhunt became the latest to praise the strong camp of wide receiver Jerheme Urban.