Anquan Boldin is apparently willing to now sign a new contract with the Cards.
INDIANAPOLIS ? Anquan Boldin has thawed in his previously concrete stance that he would never sign another contract with the Arizona Cardinals.
No one is going on the record as saying such ? there were just a pair of anonymous stories on NFL.com and profootballtalk.com. Agent Drew Rosenhaus has not been directly quoted in the stories revealing Boldin?s change of heart, and Cardinals general manager Rod Graves declined to corroborate what was said when he met with Rosenhaus Thursday.
?Any confirmation of what he said in our talks should come from his representative or Anquan himself,? Graves said. ?I did meet with Drew today and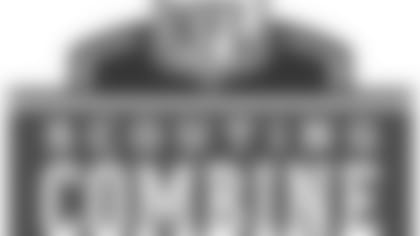 we covered all the players he represents, and I came out of it feeling very positive.?
Boldin has been vocal since training camp, when he said he did not want to remain a Cardinal. Those thoughts were reiterated right after the season, when Rosenhaus told the Cards again that Boldin wanted to be traded.
The thought process apparently shifted once Rosenhaus arrived at the combine. Nothing has shifted for the Cardinals, who have repeatedly said since last summer ? when Boldin?s contract issues first were leaked to the public ? they didn?t want to part with their Pro Bowler.
?Our position with Anquan has not changed,? Graves said. ?We feel and recognize he is a great football player and we are excited about having him as a member of our football team. Our intent all along was to consider a long-term deal for him at the best window of opportunity.?
Graves acknowledged he didn?t know if that window was this spring because ?a lot of things come into play and have to be satisfied before we address that opportunity.?
Boldin has two years remaining on his current contract.
Graves does have other, more pressing issues to attend to for now. He has scheduled meetings with the agents of both quarterback Kurt Warner and franchised linebacker Karlos Dansby Friday, as he tries to work out contract extensions with both.
Graves said he spoke with Mark Bartelstein, Warner?s agent, Thursday as well and negotiations were ?ongoing.?
The general manager also got a chance to talk with running back Edgerrin James, who has publicly come out asking to be released as soon as possible. Graves declined to characterize his discussion with James.
?Edgerrin is still a member of our football team under contract,? Graves said. ?Any decision about him or any of our players will be made with the team in mind.?
EXTRA POINT: Running backs coach Maurice Carthon was released from his contract to take a job on Todd Haley's new staff in Kansas City. Carthon was replaced on the Cards' staff with Curtis Modkins, who spent the 2008 season as Kansas City's running backs coach.