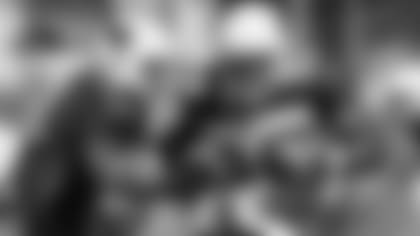 Running back Beanie Wells tries to escape linebacker Gerald Hayes during Saturday's afternoon practice.
FLAGSTAFF – At Beanie Wells' first practice, Tim Hightower looked sharp.
Hightower looked powerful and drew the oohs and ahhs of the crowd (estimated at between 4,000 and 5,000) on one cutback run during the session. Wells, meanwhile, started with the third-string (Jason Wright was taking the backup role behind Hightower) and had his session end early with an apparent left ankle injury.
Wells was carted from the field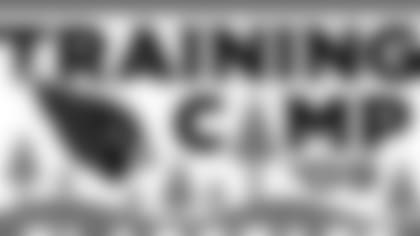 before the end of practice after his right leg was rolled up on during a play. His status for Sunday's lone afternoon practice was unknown. (UPDATE: Coach Ken Whisenhunt said Sunday morning Wells suffered a right ankle sprain and will miss some time, although his MRI showed the injury shouldn't be serious.)
While Wells is hoping to compete with Hightower for the team's starting job – he said earlier in the day his plan is to become "the number one guy" – an injury would be a setback, especially considering Hightower is already the starter.
It could also change the dynamic of the rest of the backfield.
"We have a lot of guys fighting for spots," Whisenhunt said.
Frequent media obligations aren't Larry Fitzgerald's favorite thing, but after his spectacular 2008 season and postseason, he knows his time will be requested often.
"I talked to Michael Jordan one time and I said, 'How do you deal with all this?' He said, 'Hey, if you don't want it, stop catching passes.' I'm not going to do that, so it comes with the territory."
Defensive lineman Kenny Iwebema is back on the practice field, but he shakes his head when he starts talking about his return.
"I'm not as strong as I want to be," said Iwebema, who was forced to miss a lot of offseason weightlifting and conditioning after having a growth removed from his chest. "It is something I will be working on in the weight room with coach (John) Lott, and my conditioning is not where I want it to be.
"It's not bad enough where I can't practice, but I have the next few weeks and all the preseason games to get ready."
Iwebema stressed his issues have nothing to do with the surgery itself.
Besides Wells, the Cards also had three players sit out with injuries. Wide receiver Steve Breaston was nursing a sore back, while fullbacks Justin Green (knee) and Dan Krieder (hamstring) were also out. …
The Cardinals released tight end Alex Shor to make room for Wells on the roster, but the Cards still have plenty of tight ends. Leonard Pope, Dominique Byrd, Stephen Spach, Ben Patrick and Anthony Becht remain, while long snapper Mike Leach still does some drills with the tight end and could fill in in a pinch.