Defensive end Bertrand Berry, who has had season-ending injuries the past three seasons, agreed to a contract restructuring.
INDIANAPOLIS – The Cardinals' decision-makers began the trek Wednesday to the NFL Scouting Combine, the place where teams focus on their potential draftees.
But with free agency starting a week from Thursday, the combine also marks an intense period of work for any NFL team – one that often sets the direction of the offseason.
The Cards accomplished some of that already, restructuring the final season of [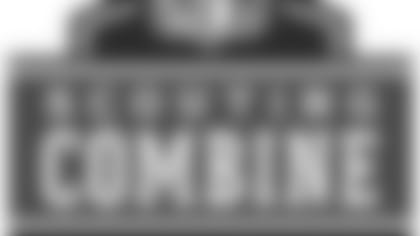 ](http://www.azcardinals.com/fanzone/combine.php)defensive end Bertrand Berry's contract. Details were not released, but it is expected that some of the $4 million Berry was scheduled to make in 2008 salary has now been transferred into incentives.
The move will save the Cards some salary cap room, at least for now. After making the Pro Bowl in 2004, Berry has missed the back half of each of the last three seasons with injuries.
"Bert understood our cap challenges and made it clear he was willing to work with us to help the team," general manager Rod Graves said. "He desired to be part of next year's team. It speaks to the character of Bert and what some of our players are willing to do to see this team continually improve."
The Cards are still trying to work out a restructured contract with wide receiver Larry Fitzgerald, in order to lower his $16 million-plus salary cap number for 2008. The "majority of my energy" has been spent on that deal, Graves said.
Meanwhile, Graves expects talks with free-agent-to-be Calvin Pace to intensify over the next week, in an effort for the two sides to come to terms before Pace reaches the open market.
The Cards must also officially tender offers to the restricted free agents they are expected to retain – players like cornerback Eric Green, defensive end Antonio Smith and offensive lineman Elton Brown – and eventually try to hammer out a long-term contract with linebacker Karlos Dansby.
There will also be some efforts chasing other teams' unrestricted free agents when that period begins, although Graves said the Cards' current roster issues are more important to sort out first.
"I think our team has evolved to the point where we don't have to emphasize big-name players (in free agency) as much as we have in the past," Graves said. "We have focused on retaining our own guys, trying to get our core together and manage that group as opposed to looking for bigger-name players.
"Now, we are always looking for opportunities to upgrade the football team. (But) in order to accommodate a big salary now, we have to eliminate a (current) core player. At this particular point, I don't believe that is what we are looking to do."
That's where the combine circles back into the picture. Given the escalating salaries of current high-profile Cardinals, finding reasonably-price contributors for coach Ken Whisenhunt is crucial. There is no better place to do that than in the draft, especially now that the Cardinals don't pick in the first round until No. 16.
"It really is like two separate jobs, two full-time jobs going on at once that you have to prepare for," Whisenhunt said of scouting and free agency. "You have to prioritize."
Whisenhunt had been on the job for a little more than a month when he arrived at the combine in 2007. A year later, he acknowledged he is "comfortable" within the job knowing the direction the franchise is headed.
But with the business of late February swirling, comfortable isn't the word that comes to mind.
"As far as the day-to-day issues," Whisenhunt said, "I don't think you can ever feel completely settled."