EAST RUTHERFORD, N.J. – The news, even before the Cardinals took off on their charter flight back to Arizona, was encouraging.
Anquan Boldin was doing well. He was alert. He was staying behind at a Manhattan hospital -- just to make sure the crunching hit that forced his body to fall limp to the ground at the tail end of Sunday's 56-35 loss to the New York Jets wasn't serious.
Owner Bill Bidwill and team president Michael Bidwill stayed behind with Boldin, as did Boldin's fiancée. The quartet was able to leave New York later Sunday night, flying home aboard Michael Bidwill's plane.
Before then, though, he scared his teammates.
He was crunched, hit simultaneously by safety Kerry Rhodes from behind and safety Eric Smith from the front, Smith's helmet coming underneath Boldin's facemask and crushing Boldin's jaw.
"When that happened, I thought, 'Dude, it can't get any worse, I am ready to get on this plane and go home,' " cornerback Eric Green said. "I told Antrel (Rolle), 'He's out.' Because his arms just flew out just dead. I had tears in my eyes."
It was a disturbing sight. Quarterback Kurt Warner, who threw the pass on which Boldin got hammered, was noticeably shaken afterward. It was Warner who led a group of players in prayer on the field while doctors tended to Boldin.
Forgetting what led up to the play was easy.
The Cards had the start they wanted. They stopped Brett Favre twice. They drove down the field with ease on their first drive, reaching the Jets' 9-yard line. That one ended first when Warner fumbled to lose 23 yards, and then when Boldin fumbled the ball away on the next play.
Chike Okeafor's interception gave the ball back to the Cardinals' 16. That ended when Neil Rackers' field-goal attempt was blocked.
The Cardinals couldn't have dealt with a worse sequence.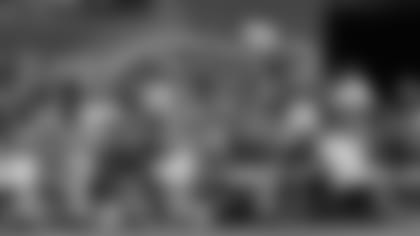 A week on the East Coast was supposed to allow for a better start. The start was better. The execution took a step back.
Whisenhunt acknowledged many would question his decision to stay back for a week but Warner didn't even want to consider such a thing.
"It has nothing to do with traveling or not traveling, coming in late or being tired, that stuff doesn't matter," Warner said. "You have to find a way to play football for three hours."
Breakdowns came all around. Not enough protection for Warner. Not enough protection of the ball from Warner. Not enough timely stops by the defense. Not enough of anything.
"No one can point the finger," safety Antrel Rolle said. "I can point the finger at myself, say I must play a better game. I am pretty sure a lot of people in here feel the same way."
Frustration was evident on the sideline as the clock wound down – Boldin himself let off a scream of anger before the final drive – but it faded with 27 seconds left.
Boldin's status won't probably be known until mid-week. He had another 10 catches Sunday. He is on pace for 108 receptions, 1,464 yards and 20 touchdowns. Those numbers are likely unrealistic to hold up, but they underscore the level at which he is playing.
After his early-season performance, it's almost laughable anyone would have thought Boldin wouldn't play hard after his contract squabbles of the offseason and training camp.
Yet, after absorbing that hit Sunday, the way Boldin responded may have meant the most to his team.
"He said he was OK and he was actually trying to get up out of there," said defensive tackle Darnell Dockett of Boldin lying on the ground. "That's the type of player Anquan is.
"Like I was telling people on the sidelines, you remember the feeling. You remember the feeling of going up against the Jets, them putting up a lot of points on us, and one of our best warriors got knocked out. Ya'll remember that. If that don't fire you up for the next game, I don't know what will."
This article has been reproduced in a new format and may be missing content or contain faulty links. Please use the Contact Us link in our site footer to report an issue.