Cornerback Jerraud Powers picks off his third pass of the year, which is tied for the NFL lead
The Cardinals registered four turnovers in the fourth quarter to secure a 30-20 victory over the Redskins on Sunday. The third came on an interception by cornerback Jerraud Powers, who knifed through a block to pick off a screen pass. Powers and safety Deone Bucannon broke down the play for Cardinals Film Room.
The situation: Washington faced a 3rd-and-3 from the Arizona 42 with 4:13 remaining in the fourth quarter, trailing 23-13.
Powers on his pre-snap thought process:"I'm thinking screen. Kirk Cousins is probably thinking we're bringing a lot of pressure when we're not. We were faking a blitz. Whenever you think a blitz is coming, the easiest way to get out of it is throwing a quick screen. Right now me and Pat (Peterson, No. 21) are thinking screen because DeSean (Jackson) is not lined up all the way in the bunch. He had space so he would have room to catch the screen."
Bucannon on having 10 guys within three yards of the line of scrimmage:  "That's just coach (Todd) Bowles, man. I'm telling you, coach Bowles, he's a smart guy. (The offense) can't see anything. You see seven guys on the line of scrimmage looking like they're about to go all-out blitz. It's like, 'OK, it's got to be zero (1-on-1) coverage.' It was definitely a surprise."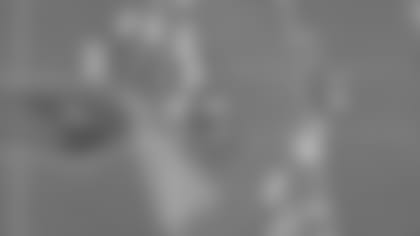 Powers correctly identifies the play:"Once Andre(Roberts) comes up to try to block me, I knew it was a screen since he wasn't going out for a route. I peeked at Kirk and he was looking this way. I read the play and kind of jumped it. I thought interception the whole way. I knew if it wasn't an interception it would be a bang-bang tackle anyway."
Bucannon didn't blitz, instead dropping into coverage, needing to get all the way over to tight end Jordan Reed:"You fake the blitz for as long as you can but make sure you get to what your responsibility is. It's difficult. You want to give a good bluff so the ball comes out quick. It's all about timing and understanding the snap cadence."
Bucannon recognizes a screen pass is coming: "When I was coming I saw No. 86 (tight end Jordan Reed) looking right at me and I figured, 'OK, you're not running a route. You're probably trying to block me.' So I was just trying to get inside and I saw that Jerraud had already beaten his block."
Powers knifes past Roberts:"I knew I beat the block. DeSean kind of hesitated a little bit, so I knew I had enough room to jump it and make a play."
Powers picks off the pass and sees daylight:"I was gone. I was thinking six the whole way. And I think when I caught it, I stepped on Andre's foot or DeSean's, one of them, and it just tripped me up. And then Rashad (Johnson) gets an easy pick-six (later to seal the win). I was kind of hating on him a little bit for that."
Bucannon also thought Powers had a touchdown: "I was going to start blocking for him. But shoot, nonetheless, it was a turnover and a great play."