Kyler Murray hasn't had to work without DeAndre Hopkins yet this season – the three games the Cardinals quarterback missed were the three the top wide receiver missed as well.
Now, Murray will have many games without D-Hop, with Hopkins undergoing knee surgery after getting hurt at the tail end of Monday's game against the Rams and facing the reality that the best-case scenario for Hopkins to come back would likely be the NFC Championship game – if the Cards make it that far.
"That's a big hit," Murray said Thursday. "That's a guy we all love and trust out there on the field. The guys stepped up (previously) and I think that's something great teams do. It's a long season, not all the time are you going to make it to the end with your full army.
"Obviously there is a dropoff if DeAndre Hopkins isn't on the field. But at the same time I am confident every single guy will step up and make plays. We have that type of talent."
In the three games the Cardinals were missing Hopkins, they ran "10" personnel – four receivers, no tight end – only three plays. Some of that was because Hopkins was absent, much of that likely was because tight end Zach Ertz is one of the top playmakers the Cardinals have.
While it's been fun for fans and talk radio to speculate about Larry Fitzgerald returning the play, the Cardinals have their receivers. Antoine Wesley, who filled in for Hopkins during Hopkins' hamstring absence, is the likely replacement this time.
Wesley, who became friends with Murray when the two both came out for the 2019 draft and who played for Kliff Kingsbury at Texas Tech, has eight catches for 113 yards on the season.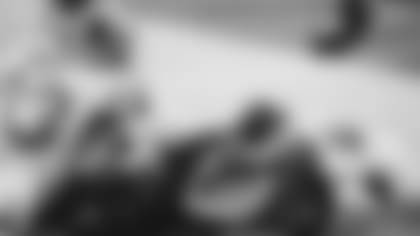 "Whenever Hop is down, obviously I'm his backup and his life support," Wesley said. "My name is called, I just have to be there to make the play.
"I work my butt off a lot so I always visualize myself as hopefully one day being a starter. It came in three years, so I am honored and blessed."
The Cardinals still have leading receiver Christian Kirk and veteran A.J. Green, who had a 100-yard game against the Rams. They have Ertz, rookie Rondale Moore and Andy Isabella – the latter of whom is still seeking his first reception.
Green said he talked to Hopkins Wednesday and Hopkins was "in great spirits." He is in Los Angeles, Green said, where Hopkins is expected to have his surgery.
While Green has been a No. 1 receiver in his career, the Cardinals won't rely on any one pass catcher to fill in for Hopkins. Green reiterated the Cardinals have done excellent spreading the ball around, and even Hopkins – who did have eight touchdowns in nine games – had not had a 100-yard game this year.
"What D-Hop brings to the table, everybody knows what he means to this team," Green said. "We're not going to replace him. You can't replace him. But we also have a great group of guys in the receiving room that we will rally behind.