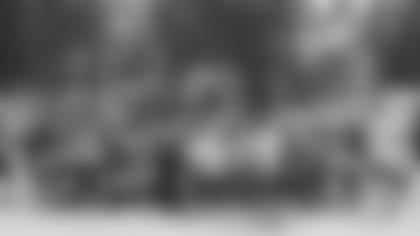 The Cardinals break their final team huddle of camp Thursday morning.

FLAGSTAFF – The reaction was not a surprise.
"Ecstatic," wide receiver Anquan Boldin said with a smile, when asked his feeling that training camp was coming to a close.
And as for coach Ken Whisenhunt's idea that the Cards would be better off with another week at Northern Arizona University, quarterback Kurt Warner bluntly said, "No sir."
"I am ready to go back home," Warner added.
The camp everyone was waiting for, the one where the defending NFC champions finally returned to the field, is over. Shorter than usual – the NFL calendar began later and NAU begins at the same time, forcing the Cards to leave after just 3½ weeks – the time up north also played out without much drama. Boldin wasn't complaining about his contract. The quarterback battle wasn't for the starting job, but the backup role. Injuries were at a minimum,
with the lingering sprained ankle of rookie running back Beanie Wells arguably the "biggest" story.
The lack of chaos left Whisenhunt with a small smile of his own when reflecting on camp.
"Obviously last year there was a little more turmoil," Whisenhunt said. "I have to give our players credit, they have worked hard. When you get into … camp with no games in sight and no light at the end of the tunnel, mentally guys get tired and practice habits lapse and our guys have not done that. That's what you get from a team that has hopefully matured."
The lack of a fourth week disappoints Whisenhunt to an extent, especially knowing the Cards have half a preseason left and must practice in the intense Valley temperatures. Whisenhunt said the team will now move into more of an in-season routine, with no more night meetings and no potential for two-a-day practices.
But he also said the Cards have put in the bulk of their prep work by now – linebacker Karlos Dansby said the entire defense has been installed – and going forward the Cards want to begin polishing their play for the Sept. 13 regular-season opener.
""It's been a good camp," Warner said. "It's been a short camp. As far as that goes, I don't want to say easy because camp is never easy, but three weeks is enough to get away, focus on football. Thing is, we still have three-plus weeks before our first game. We say camp is over because we break from here but we still have a long way to go and a lot of things we have to do in the heat."
The Cardinals were working on a one-year contract with NAU. Whisenhunt said he doesn't get involved in future negotiations but said he likes having camp at the university.
"The fans have been terrific, the weather has been cooperative – I've never been up here when it hasn't rained – so it's been great," wide receiver Larry Fitzgerald said. "I think we have gotten some good work done, and I think we've been pretty productive."
Whisenhunt knows a camp is only judged by the season it helps produce. That will take a while to sort through.
But the Cards are done in Flagstaff for another year. For the players, they got done what they needed.
"I miss my wife," safety Adrian Wilson said. "That time you are away from your family, you can't make up. At the same time, there is a goal and a purpose here."
Sitting out practice Thursday were WR Steve Breaston (knee), T Elliot Vallejo (kneecap), LB Ali Highsmith (ankle), DE Keilen Dykes (quad) and CB Bryant McFadden (ankle). Also absent were DE Darnell Dockett and LB Gerald Hayes (family reasons) and defensive coordinator Bill Davis, whose wife gave birth. …
Whisenhunt said he is not yet concerned about Wells' situation or his lack of practice time. "There are still three (preseason) games to play," Whisenhunt said. …
Fitzgerald has restructured his contract to create potential extra salary cap room for the team.