Running back Edgerrin James hugs head coach Ken Whisenhunt after James helped lead the Cardinals to a 30-24 playoff win over Atlanta.
All season long, as Edgerrin James sat mostly unused on the bench, Cardinals coach Ken Whisenhunt insisted James would be needed again. James insisted he could still play.
In the most important time of the year, Whisenhunt has put James back to work. And James has shown he could indeed still produce.
James was the lynchpin of the Cardinals' offense during Saturday's 30-24 Wild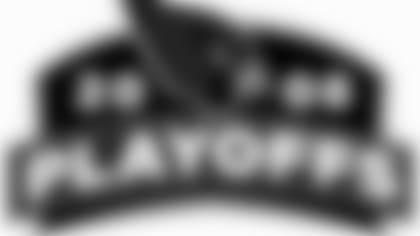 Card playoff win over Atlanta. His 73 yards on 16 carries wasn't going to turn any heads, but after a season in which the Cardinals had increasing trouble running the ball, James' emergence has changed how teams have to look at the Cards going forward.
"You look back on everything, 'Why didn't we do this, why didn't we do that?' But did it hurt us? It didn't hurt us," James said about the troubled run game and his place in it. "When times got serious, we are doing what it takes."
The Cardinals ran for 86 yards, a total that took a hit when a late end-around to receiver Steve Breaston lost eight yards and quarterback Kurt Warner lost six yards on three kneel-downs. Up until that point, the Cards had 24 rushes for 100 yards, enough to balance Warner's 271 yards passing.
"Maybe it was a little different than we had done all year, but that's what the playoffs are all about, figuring a way to win," Warner said.
James even joked when he was asked about getting away from "Cardinals football," chuckling "I don't know what Cardinal football is. What is Cardinal football? I just think it's playing to win, and that's what it took to win."
Offensive coordinator Todd Haley said the offensive line has been coming to him "periodically" down the stretch of the season and even at halftime Saturday and "expressed to me they would be able to block the run."
"You could tell the way they were acting all week they were ready to do the job," Haley said.
James acknowledged during the week his days as a Cardinal will likely end after the season, and he also acknowledged that is something he wouldn't mind. Saturday, though, he promised his production will still be there, noting if he gets the ball and the offensive line blocks its assignments, "I'm going to come up big."
At the end of the game, several defensive players came up to talk to James. Their message was simple.
"They were telling me they're not ready for me to go yet," James said, laughing. "They said, 'Edge, we know you're ready to go, but not yet.' "
Wide receiver Anquan Boldin came back from his bad shoulder and made a huge play, grabbing a third-down pass from Warner in the second quarter and maneuvering down the sideline for a 71-yard touchdown. But Boldin pulled his left hamstring on the play, not only sidelining him for the game but leaving his status for next week in doubt.
"I don't know how it's going to respond," Whisenhunt said.
Haley said Boldin's injury hurt the offense, because of the number of plays that are built around Boldin's versatility. Some of the plays could be run for rookie Early Doucet, but Doucet was inactive.
"They are unique plays with (Boldin)," Haley said. "Now a large part of your game plan is gone, especially with Early inactive. It was really a scramble."
Up 11 in the fourth quarter, the Cardinals pinned the Falcons back on the Atlanta 3-yard line. Defensive linemen and close friends Darnell Dockett and Antonio Smith sensed an opportunity.
"We looked at each other and said, 'We're going to make a play. We're going to get a safety,' " Dockett said.
The next play, Smith bear-hugged Ryan in the end zone for a safety. Ryan managed to flip the ball to running back Michael Turner for what looked like might be a big gain, but the official blew the play dead.
"I was trying to keep his arm down and get the ball out," Smith said. "It was all in slow motion. I was glad when I heard that referee blow the whistle."
Dockett ended up getting a 15-yard penalty for a celebration, claiming he was just "overexcited" when he jumped on Smith's back – with Smith on all fours – and acted like Smith was a horse, wacking him repeatedly on the helmet.
"I don't know what Dockett was doing," Smith said. "He hit me in the head about 50 times – I was trying to get up off the ground to celebrate."
Safety Antrel Rolle provided the biggest boost of the game early in the second half when he scooped up a fumble forced by Dockett and ran it back 27 yards for a touchdown. It was the fifth career touchdown for Rolle, who also has four touchdown returns among his eight interceptions. It was Rolle's first NFL fumble recovery.
"That's the name of the game and (scoring) is the only thing I know how to do," Rolle said.
Warner kept alive the Cardinals' 14-play touchdown drive in the third quarter with a six-yard run on third-and-5, a run Warner clearly did not want to try.
"I'm sure it will make a lot of highlights," Warner said. "My coaches have been telling me all year, 'Sometimes, you gotta just run every once in a while.' "