Linebacker Gerald Hayes works his shoulders during Monday's first day of the voluntary offseason strength and conditioning program.
On the first day of the Cardinals' voluntary offseason strength and conditioning program Monday, Steve Breaston and Michael Adams were talking about the many new faces they were seeing in the weight room.
"That's the way it is when you come back the next season," Breaston said. "It just allows people to get comfortable with each other. It builds a trust – you see a guy working hard, you know that's going to carry over into practice and the games."
Coach Ken Whisenhunt praised his team's work in the weight room many times last season, pointing to the efforts of strength and conditioning coach John Lott as one of the main reasons the Cardinals made it through the 2008 season relatively healthy. That health was certainly an underlying aspect to the Cards' surprising run to the Super Bowl.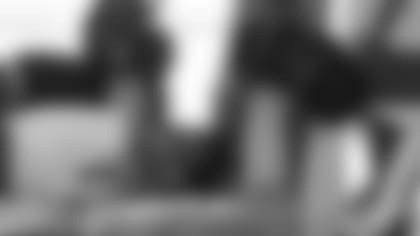 For a photo gallery from the first day of workouts, click here.
But the offseason work provides intangible benefits as well. New faces aren't so new in training camp once they have been seen so much in the offseason. That can only help a team.
"That's a big factor for success, having a lot of guys around when they aren't really supposed to be here," said cornerback Bryant McFadden, who signed with the Cardinals after playing four seasons with the Steelers. "It develops team chemistry and team unity. It's a big part of being successful, being around in the offseason and getting to know your teammates."
The Cardinals do not take the field for any organized work until the mandatory minicamp May 1-3. And it's unrealistic to think or expect players will take part in all the voluntary work – Monday, safety Adrian Wilson was taking part at an event at University of Phoenix Stadium, quarterback Kurt Warner was continuing his rehab from hip surgery, and wide receiver Larry Fitzgerald was in Cairo, Egypt, as part of one of his circle-the-globe vacations.
Others, like wide receiver Anquan Boldin and defensive tackle Darnell Dockett, aren't expected to be around much because of ongoing contract issues.
But the Cardinals still had 46 of the 67 guys  on hand Monday to first go through the weight room through player-specific plans designed by Lott and then on the field for running and conditioning drills.
"In all sports, bonding is huge, but it's especially important in football with so many guys," quarterback Matt Leinart said. "You get the interaction with the weightlifting, the going-to-lunch afterward, golfing, whatever it is. During the season, it's routine, the meetings and the work and then you go home to your family, and you are tired. This is the time when you really develop those friendships. You spend that extra time because you are in here a couple hours a day. That's when the camaraderie and the bonding really takes place."
Many of the new faces with the Cards this season were on hand, among them McFadden, running back Jason Wright and safety Keith Lewis.
Another group well-represented was the 2008 draft class, who were going through this part of the offseason work for the first time. This year's rookie class will join the team for the minicamp a week after the draft and begin its prep work then.
"At this point (last year) I was worrying about getting drafted," second-year running back Tim Hightower said. "(Your mind) is not on football or getting in shape per se, you are so consumed with the draft, what round, what team.
"Rookies come in trying to figure out where the locker is and (now) you're trying to figure out how to be in better shape. From that aspect you feel 10 times ahead of where you are last year."