At the end of a long two-practice day and the Cardinals running sprints to close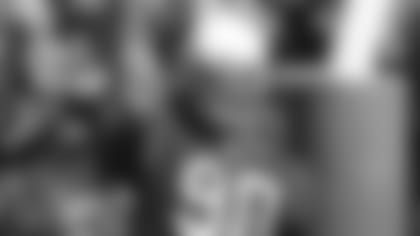 out their work, Darnell Dockett was out in front.
It was like the Pro Bowl defensive end was trying to make a point, although he said afterward he really wasn't. He was challenged to keep up with one of the young defensive lineman draft picks, and just took off in front when the rookie tired.
There could be points to be made from Dockett's perspective. Questions arose whether Dockett was going to be at this minicamp at all, given the fact he had asked the team to renegotiate his contract and was denied. The organization sees Dockett lower on the list of players with contract issues, since his new five-year extension signed in 2006 still has four years left to go.
Dockett showed at minicamp, however, after hearing from his teammates beforehand.
"I wanted to be with my teammates," Dockett said Saturday afternoon. "I think I took two years off my career last year playing all them plays. I decided I better get to know these guys so they can back me up this year. We are going to need them."
Depth on the line was a concern for the Cardinals. Coach Ken Whisenhunt said as much when defensive linemen Calais Campbell and Kenny Iwebema were two of the team's first four draft picks.
Dockett acknowledged he didn't even notice the major wear-and-tear on his body until after the season, making him appreciate his potential backups.
But the team needs Dockett more, after he proved a perfect fit as the end in defensive coordinator Clancy Pendergast's hybrid 3-4 look. It would have caused a problem if Dockett – who has not taken part in the team's voluntary conditioning program – skipped the mandatory minicamp as well.
Asked directly if he had thought about staying away from minicamp, Dockett said "I don't think so …" and then trailed into a pause.
"I just wanted to be with my teammates," Dockett finally added. "I've enjoyed that, being with them the last four practices."
Dockett, who turns 27 later this month, fancies himself a leader of the line, making it more important for him to be in town.
Friday night, the defensive linemen took in a showing of the movie "Iron Man," and had dinner at Hooters on Dockett's dime.
"I told them it was the last time I will every take you all out so you better order up some (stuff)," Dockett said.
He said he has been training with an old high school coach back in Maryland to stay in shape (and said he was headed to a personal workout Saturday night once he left the Cards' complex). It's uncertain whether he might stay in Arizona after minicamp; voluntary organized team activities begin May 20.
The contract stuff won't go away by then – Dockett said he'd "rather not talk about" the situation – but he sounded as if helping out his teammates may be enough of a draw to keep him around.
"(The young players) asked m some of the same things I used to asked veterans, what you do in this situation or that situation, and it triggers in my mind that I can really help them," Dockett said. "It's one of the reasons I wanted to be here.
"All the other issues I can put to the side, but right now, these young guys, they need a leader and that's where I come in."
This article has been reproduced in a new format and may be missing content or contain faulty links. Please use the Contact Us link in our site footer to report an issue.