Receivers coach Mike Miller gives instruction to Early Doucet during practice Tuesday.
FLAGSTAFF – When Larry Fitzgerald was drafted third overall in 2004, the Cardinals did not need him to necessarily be a star right away. They had Anquan Boldin, who was coming off a Pro Bowl rookie season.
Then Boldin hurt his knee early in training camp, and with attention focused on Fitzgerald, he had some normal rookie receiver struggles. He tore ligaments in his ankle in the first preseason game. He started every regular-season game and had 58 catches for 780 yards – good totals for a rookie wideout, but not great.
Thinking back to that time and that transition, Fitzgerald can empathize with new teammate Early Doucet. Rookie wide receivers usually don't step in and succeed right away.
"I kind of know what Early is going through," Fitzgerald said. "It was very frustrating. You want to practice, you want to be out there with your teammates,
[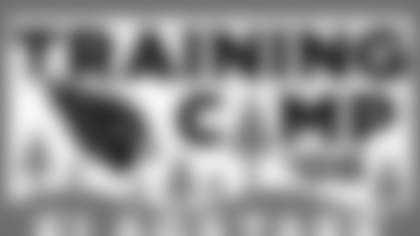 ](http://www.azcardinals.com/news/training_camp.php)
you want to play, you want to contribute and do your part."
Doucet, the team's third-round draft pick, was supposed to battle for the Cards' third-receiver role behind Boldin and Fitzgerald. Instead, a hamstring injury early in camp sidelined him for close to two weeks and kept him from each of the first two preseason games.
Doucet returned to the practice field Monday, but his lost time will hamper his efforts for playing time.
"It will be hard for him to catch up," coach Ken Whisenhunt acknowledged.
There is a certain mystery to why most rookie receivers fail to make an impact. A decade of first-round wideouts, from 1997 to 2007, included 43 wide receivers drafted but only two 1,000-yard seasons. Randy Moss did it for the Vikings in 1998, and Michael Clayton did it for the Buccaneers in 2005 (and subsequently has had his career slip significantly).
In that same time period, only two other rookie wide receivers have crossed the 1,000-yard barrier: Boldin and New Orleans' Marques Colston in 2006.
Boldin was the exception to the rule, bursting out in 2003 with 101 receptions for 1,377 yards and eight touchdowns. He had 10 catches for 217 yards in his very first game.
Boldin admits he was in a good spot. At the time, the Cardinals had not brought back their top three receivers from 2002 – David Boston, Frank Sanders and MarTay Jenkins. Boldin and Bryant Johnson were drafted and dropped into significant roles.
"I came into a unique situation," Boldin said. We had opportunities to play right way. In Early's situation, you have two guys that are established, two Pro Bowlers.
"But a lot of guys, it takes time because of the comfort level. Because the system you ran in college and coming to the NFL where the system is completely different – route running, terminology, everything is different. It might take a guy like that time to get adjusted."
Doucet – who said his hamstring problem is not related to the groin injury that kept him out significant time of his final college season – knows conventional wisdom says he will struggle.
He'd like to fight that perception.
"People say it takes a receiver about three years to be accustomed to things," Doucet said. "But even if it is just (blocking on) running plays, I want to contribute in some kind of way. I don't think I want to settle where I am that guy where it takes a few years to adjust to the NFL games."
Doucet said the time he missed with his injury isn't too costly. He said he has kept up with camp mentally, going to meetings and staying in his playbook.
But it isn't necessarily that simple. Fitzgerald said Doucet's learning curve is steeper because the team is asking him to learn three different receiver spots right now. Boldin said it is impossible for a rookie to learn everything without actually being on the field.
"He has to get in a game situation, get familiar with the speed of the game and get familiar with the offense period because this offense is all about concepts, being in the right place at the right time," Boldin said. "If you're not on the field doing it, there is really no way else to be prepared to do it."
Steve Breaston and Jerheme Urban, the players initially considered Doucet's top competition for the third-receiver spot, have a major advantage over Doucet now.
Doucet said he just wanted to follow the lead of his two high-profile teammates, each of whom have been to two Pro Bowls.
"When you know what to do, it allows your true talent and abilities to take over," Doucet said. "If you aren't sure, you might be timid. Seeing those guys when they came in and do what they did, I just want to follow in their footsteps."
This article has been reproduced in a new format and may be missing content or contain faulty links. Please use the Contact Us link in our site footer to report an issue.