Edgerrin James (32) talks with Tim Hightower and J.J. Arrington (28) on the sideline during the Cardinals' game against Seattle last weekend.
Edgerrin James, as always, was blunt.
Talking Thursday to a handful of reporters, the veteran running back admitted the "direction" the Cardinals went in this season wasn't something he was used to and it was something "I wasn't buying into." He acknowledged he didn't want to train and then prepare to "pass pro(tect) 50 times," a nod to the Cards' pass-first offense.
"I don't know if you can make me happy with that," James said.
But James, who saw his first significant playing time in nine games in the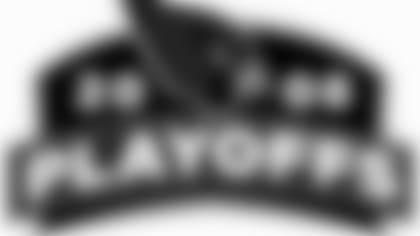 Cardinals' season finale and responded with 100 yards rushing on 14 carries, was also clearly thinking playoffs and not the past.
"They did what they had to do," James said of his benching and playing behind rookie Tim Hightower. "At the end of the day, that's over with. Now it's time to get serious. I am here to try and make plays and help this team move forward."
Coach Ken Whisenhunt has stayed vague over what role James will play in Saturday's Wild Card playoff game against Atlanta. But given James' mood and his performance against the Seahawks, it's hard to believe James won't be at the heart of the Cardinals' run game.
"I think whenever he is in the game he changes the game," wide receiver Anquan Boldin said. "He's not going to get you the 50- or 60-yard runs, but he's going to pound it and consistently get positive yardage. I think that starts to wear on defenses."
In the eight games after Hightower was elevated on the depth chart, James did not play a snap in three and had just 11 carries in the other five. Whisenhunt said all along the Cardinals would eventually need James, but it seemed a foregone conclusion that however the season ended up, James would not return in 2009.
"I'm not worried about that," James said about this being his final season as Cardinal, although he did say he thinks it is true. "I think the feeling is mutual … (It's) not something I'm going to contest."
James laughed as he said it. He remains utterly confident in his abilities, saying he doesn't have to prove he is still effective. His issues lie in playing in the right system, he said, noting that his 35-yard run against Seattle – his longest as a Cardinal – came on one of the stretch plays he made famous while playing for the Colts.
"If I felt I couldn't play, I wouldn't play," James said. "I don't have to play this game. I am not in a situation where I am financially strapped or I don't have enough statistics. I play the game because I like to play the game, because I can and because I want to."
A basic breakdown of the Cards-Falcons playoff game is the opposing offensive styles. Whisenhunt has made it clear that, even if James can boost the running game, the Cards will in the end need their record-setting passing game to click. And the Falcons, with rookie quarterback Matt Ryan, need a good day from star running back Michael "The Burner" Turner and his backup, Jerious Norwood.
"That's at the core of our beliefs as a coaching staff, that you have to be able to run the football and control the line of scrimmage," Falcons coach Mike Smith said.
Turner finished with 1,699 yards rushing and 17 touchdowns for the Falcons, whom he signed with as a free-agent after spending four years behind LaDainian Tomlinson in San Diego.
The Cardinals haven't been consistent defending the running game, especially of late. When the powerful Giants, who had gained more than 200 yards rushing in three straight games, visited Arizona, the Cards held them to 87 yards. But Minnesota and Adrian Peterson torched the Cards for 239 yards on the ground.
Whisenhunt and his players have talked a lot about playing disciplined Saturday. Better tackling is a must.
"It will be a total team effort," starting nose tackle Bryan Robinson said. "That Giant game, you put so much stock into that. Do we have the makeup on this team to do it? Of course we do. Will we do it? You guys will have to tune in on Saturday."
The Cardinals, in their final regular practice of the week (they will have a walk-through Friday) were relatively healthy. Defensive end Travis LaBoy (ankle) returned to limited work, and no player sat out. The same can't be said for Falcons star defensive end John Abraham (shoulder/thigh), who did not practiced at all this week. …
The Cardinals received a second extension for the TV blackout deadline Thursday. With about 3,700 tickets remaining, the Cards have until 2:30 p.m. Friday to now sell out and get the game televised locally.