Fans arrived early to Sportsman's Park at Cardinals Stadium to be a part of the ultimate fan experience at the inaugural game in the Cardinals new nest.
Hundreds took advantage of the activities and entertainment at the Great Lawn, an eight acre expanse on the west side of Cardinals Stadium. Fans enjoyed the live music provided by The Crown Kings from 11:30 until game time on the great stage presented by Alltel on the east side of the Great Lawn near gate entrance #1.
Additionally several sponsors provided tents and give away booths for all fans in attendance.
Once gates opened fans filed into the building and were in awe of their new home.
"It is a beautiful facility and after waiting three years for this, it is great to be here," exclaimed four year season ticket holder Tyler Nodel of Mesa, Arizona.
"It feels great, as soon as you enter the door you can feel the air conditioning and it is really going to be a great home-field advantage."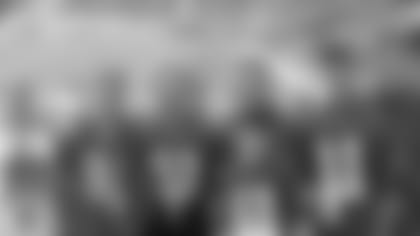 Tom Langdon of Chandler has been a season ticket holder for 17years and struggled to find words to describe his first impressions of Cardinals Stadium.
"It is such a rush just coming though the doors because you felt the air conditioning fifteen feet before you entered the building," said Langdon who came to Saturdays game with his son and best friend. "It was awesome. I can't wait to walk around and check everything out but so far it has been a great experience."."
Premium seat holders were able to enter the stadium three hours prior to kickoff to enjoy the numerous club lounges and get acquainted with their luxury lofts and club seats.
"I'm pleasantly surprised," offered Jeff Quittenbaum a first year loft holder who saw the stadium when the field was outdoors. "I'm much happier seeing it with the field in. It just makes it so much more colorful and really completes the building. We're really happy."
The enthusiasm radiated from fans as they walked around the state of the art facility but the energy that surrounds what fans can expect to see from the Cardinals on the field in 2006 was undeniable as fans watched the team warm up.
"I have such high hopes, high hopes," proclaimed Nodel. "I think Kurt Warner and the offense is going to lead us to the playoffs."
"I am very excited," added Langdon. "Edgerrin James was an awesome move and I am looking forward to a lot of great things this season."