Blaine !Gabbert played a solid game on Sunday against the Jaguars, but lost a fumble that Calais Campbell returned for a touchdown early in the fourth quarter to stake Jacksonville to a 17-16 lead. The Cardinals quarterback responded on the next possession, driving the offense 75 yards in six plays for a touchdown to retake the lead. Gabbert used his legs for a pair of first downs on the drive, but it was his arm that finished it off. Gabbert's 52-yard touchdown pass to Jaron Brown was a huge play in the Cardinals' 27-24 win. Gabbert, Brown, Campbell and coach Bruce Arians discussed the play in this week's edition of Cardinals Film Room.
The situation: The Cardinals had a first-and-10 on their 48 with 9:17 remaining in the fourth quarter, trailing 17-16.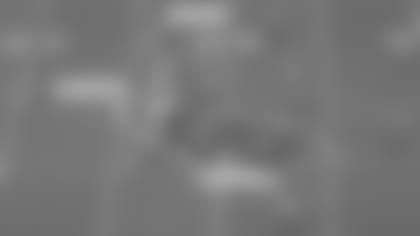 Brown sees a favorable matchup: "We just happened to call the right play against the right coverage. They were in quarters coverage during that time."
Campbell quickly gets around tight end Jermaine Gresham and flows toward Gabbert: "I thought that I had him."
Gabbert gets his eyes downfield while avoiding the rush: "We did a little (play-action) pass there and I saw him getting the edge. But, stealing a peek at the coverage and coming out of that fake and confirming it, you know that's the perfect coverage for that play."
Brown watches the backfield action from a unique angle: "I could see him running on the jumbotron, and the commotion in the backfield. I'm just happy that he got out of it and threw it up. He does a good job at avoiding pressure and getting out of harm's way."
Arians was impressed by Gabbert's escape act: "I thought Blaine's play on the 50-yarder to Jaron was one only a few guys can make because Calais came fairly unblocked, and he knew."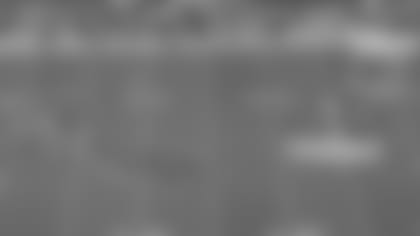 Jaguars safety Barry Church went for Larry Fitzgerald's underneath route, which Arians thought would happen: "Larry came on a deep cross and that's like a magnet. He jumped Larry on a deep cross, and it's pretty much a given that when we run that play, they're going to jump Larry if we have time to throw it deep."
Gabbert heaves it for Brown: "It was one of those deals where I just had to buy enough time to get that thing up and I tried to give him enough air because I had to cut it a little early."
Campbell just missed knocking out the ball: "I think I swung short. That one really hurts."
Arians noticed a subtle change in Gabbert's wind-up: "He had enough instinct not to draw back with the ball and still had enough strength to put it out there and not get it tipped. That was a fantastic play by him."
Gabbert watches Brown adjust to the throw and get over the goal-line: "Just him tracking the ball in the air and then scoring was huge."
Brown has plenty of room to haul it in: "I knew once I beat the corner, I had a good chance at making a play. ... Blaine made a heck of a throw."
The Jaguars quickly tied the game, but Gabbert led the Cardinals to the game-winning field goal: "(The Brown touchdown) was a big momentum play, but like I said previously, you've got to compartmentalize those things because the game's not over. I think there was still nine, ten minutes left on the clock. The beautiful thing about football is that you can't get too high and you can't get too low because the game is never over and (Sunday) we showed that."