Running back Tim Hightower plunges into the end zone with the help of linemen Mike Gandy (69) and Deuce Lutui (76) during Saturday's Red-and-White practice.
FLAGSTAFF – One play, Larry Fitzgerald was the all-world wide receiver, pulling down a Kurt Warner pass in the back corner of the end zone, getting his toes just inbounds for a score and frustrating cornerback Travarous Bain in the process.
On the next play near the end of Saturday's Red-and-White practice, Fitzgerald was blocking safety Aaron Francisco, helping clear the way for running back Tim Hightower to score a five-yard touchdown on the first and only "live" play
[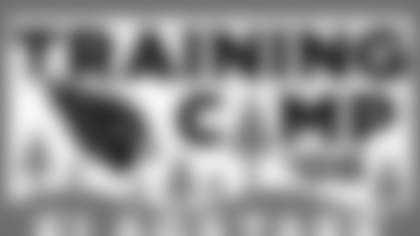 ](http://www.azcardinals.com/news/training_camp.php)
between the starting offense and defense.
"You know why Larry came to me about (the blocking)?" coach Ken Whisenhunt said. "Because he thinks he can catch more touchdowns down there. I said, 'I have to see you block first.' He said, 'I'll block.' "
There is little question what part of the game with which Fitzgerald sees his strength, however.
"That's definitely the power run game we want to have near the goal line," Fitzgerald said, before breaking into a grin. "We don't want to do it too much in the field. We want to make sure we keep getting it outside to me and Q (Anquan Boldin) as much as possible.
"But it's good to run in there every once in a while."
The Cardinals completed the first 10 days of training camp with the offense having an efficient goal line battle with the defense. After Hightower needed one play to get in the end zone, the second unit also needed one play for running back Steve Baylark to plunge off tackle for a score.
"The offense scored both times in one play, so that's an improved running game, hopefully," Whisenhunt said.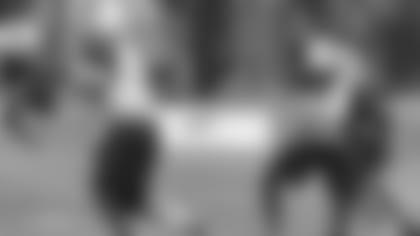 Still, the best part of practice for the Cards may have been the final horn. The team has been working, either in the classroom or on the field or both since July 23. The team is now off until Monday morning, and even Whisenhunt bluntly said he was ready to return to his own Chandler home, if only for a night.
"We were a little sloppy today," Whisenhunt said. "But it's been a long week and a half. Now we get to recharge. The hardest thing about training camp is beating against each other for that first week or two weeks.
"It's the right time for a break."
The Cards only have four more practices before the preseason opener at University of Phoenix Stadium Thursday against the Saints.
"My legs feel like spaghetti right now," Fitzgerald said, adding that the Cardinals are in good shape thus far.
"Where we are right now, we are light years ahead of where we were last year," Fitzgerald said.
Boldin (hamstring) still wasn't practicing, but Whisenhunt said Boldin is "day-to-day," and was hopeful Boldin could work Monday. Whisenhunt has not yet ruled the star receiver out of the preseason opener.
The same goes for receiver Early Doucet, who hurt his hamstring Friday morning and is out. Linebacker Clark Haggans (groin) is also day-to-day.
Cornerback Eric Green returned after missing two days for an excused personal absence. Fullback Dionte Johnson (ankle) also remains out. Defensive tackle Darnell Dockett suffered a mild sprained ankle Saturday, but Whisenhunt said Dockett would be fine.
Quarterback Matt Leinart threw a bad interception to safety Antrel Rolle Saturday. Whisenhunt said Leinart was trying to pull back the throw as soon as he let it go, knowing it was the wrong decision.
"Sometimes that happens," Whisenhunt said.
There have been moments for both quarterbacks where they have not matched up with the receivers in camp, with blame for both sides. After a recent practice in which Leinart made clear to Doucet he had made the wrong read on a sequence, Leinart said he tries not to yell at his teammates.
"If they do something wrong I am going to tell them and tell them this is what you should be doing and this is what we are seeing," Leinart said. "Coach (Todd) Haley is hard on all of us. We have enough guys yelling at us. But as a quarterback you want to take charge and make sure people are doing what they should be doing."
Whisenhunt was asked if, in light of Fitzgerald's new $40 million contract, if the coaches might be a little tougher on the Pro Bowler.
"That may surface every once in a while out on the field," Whisenhunt said with a grin. "Maybe a little quip here or there, 'You gotta live up to that.' "
This article has been reproduced in a new format and may be missing content or contain faulty links. Please use the Contact Us link in our site footer to report an issue.