Anquan Boldin throws a pass (left) and Larry Fitzgerald signs an autograph with Ken Whisenhunt looking on during Saturday's Ultimate Football Experience.
Ken Whisenhunt's team struggled during Kurt Warner's Ultimate Football Experience Saturday.
But the Cardinals coach was satisfied -- because not only did Warner's charitable foundation benefit, so did the Cards.
"When you talk about a team concept you want to do things to help your teammates out," Whisenhunt said. "This event is for Kurt, his First Things First foundation, and I think it is great he has so many of his teammates and other people out here supporting him."
In addition to Whisenhunt – who brought offensive coordinator Todd Haley to join him in a two-quarterback system – the Cardinals were also represented by wide receivers Larry Fitzgerald and Anquan Boldin.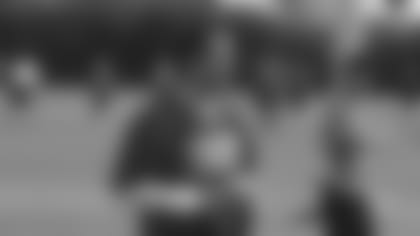 The other athletes to lead teams were Rams wide receiver Torry Holt, former NFL receiver Ricky Prohl, Seahawks quarterback Charlie Frye, Cowboys quarterback Brad Johnson, former NFL QB Mark Rypien and Arizona State University QB Rudy Carpenter.
The athletes were their respective team's all-time quarterbacks. The teams represent companies and organizations who have donated $20,000 to Warner's foundation.
Warner said the fund-raiser is his foundation's biggest money-maker each year.
But there is little question that, once on the field, the athletes are looking to win.
"It's our nature," Warner said. "You get a bunch of competitive people out to do something competitive, it's going to be competitive. But that's part of the fun.
"This is about letting these guys know what being a professional athlete is all about, whether it's in the huddle, on the sideline, or the competitive nature of the athletes and the drive they have to make them great, that's what these guys get out of it."
The team quarterbacked by Warner – Joyce Meyer Ministries – won the championship, beating the team quarterbacked by Boldin – Insight – by a final score of 50-48.
Warner has played for the championship team in each of the third seasons the event has been held in Arizona.
"Things like this are cool," Boldin said, grinning. "It is good to see the old guys get out and try and relive their memories."
Boldin said that he wanted to win, so he would have liked to top Warner at the end. But like Whisenhunt, there was a satisfaction just taking part for a teammate.
"I have a foundation myself and do events like this, and anytime I do that Kurt is willing to come out and help," Boldin said. "So this is no problem for me to participate and raise money for a good cause."
This article has been reproduced in a new format and may be missing content or contain faulty links. Please use the Contact Us link in our site footer to report an issue.