Running back Tim Hightower (34) plunges in for a touchdown during Wednesday night's goal line drill at Lumberjack Stadium.
FLAGSTAFF – Under the lights, the Cardinals finally got to hit.
With a live goal-to-go situation – first down from the 5-yard line – the first team offense scored not once but twice on one possession. Running back J.J. Arrington looking like he squeezed in on a third-and-goal swing pass from Matt Leinart. Coach Ken Whisenhunt declared the ball down on the half-yard line, so on fourth down rookie Tim Hightower slipped through the line and into the end zone.
"It was a lot of fun," Hightower said. "You get into a routine every day. We got to cut loose a little bit."
The second-team defense stopped the second-team offense from scoring.
Starting running back Edgerrin James was not used. James, who has looked good
[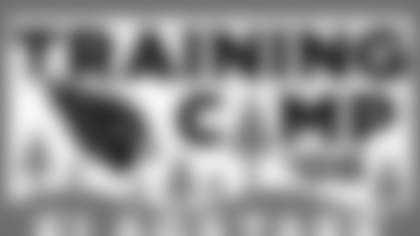 ](http://www.azcardinals.com/news/training_camp.php)
in practices thus far, sat on the sidelines as Marcel Shipp, Hightower, Arrington and Steve Baylark took the eight plays.
Hightower, who will likely be listed as fourth on the depth chart heading into the preseason opener, has been getting a noticeable amount of chances with the second- and third-teams in practice.
"I'm not getting caught up in the reps," Hightower said. "I'm just trying to make progress each and every day."
Center Al Johnson missed his fourth and fifth practices Wednesday because of his bad knee, an injury that concerned the Cardinals enough to send him to Phoenix for further tests. Lyle Sendein is starting in Johnson's place, with Scott Peters running with the second team.
Peters had been working as second-team left guard, so rookie Carlton Medder moved into that spot.
Cornerback Marcus Brown (hamstring) did return to work Wednesday, but wideout Anquan Boldin (hamstring) remains out.
Asked if the light bulb has gone on for second-year nose tackle Alan Branch, Whisenhunt kept with the analogy – all while delivering a pointed analysis.
"You know how when a light bulb, sometimes it will flicker on and off? That would be an accurate assessment (of Branch)," Whisenhunt said. "It certainly is burning bright for a couple days and then has a tendency to fade, go off a little bit and then go back on.
"Maybe it is something with the switch. But I'll say this: The bulb, when it's on? He's a pretty good football player."
Whisenhunt said Branch is still learning how to be a pro, noting there was a reason Branch was not drafted until the second round after originally being projected as a top-10 pick. With starter Gabe Watson sidelined, it is newcomer and veteran Bryan Robinson working with the first unit and not Branch.
"There was definitely an intended message there," Whisenhunt said.
Branch said he wasn't surprised and simply has to earn his spot.
This article has been reproduced in a new format and may be missing content or contain faulty links. Please use the Contact Us link in our site footer to report an issue.