Cardinals owner Bill Bidwill is interviewed by NFL Network's Deion Sanders during the team's time at Super Bowl media day Tuesday.
TAMPA, Fla. ? The Super Bowl is coming. But so too is the business of the offseason.
The Cardinals have about a month after the Super Bowl before free agency begins, and less than that to determine whether or not to use their franchise tag. The NFL scouting combine takes place the third week of February.
?We?ve got some challenges ahead, but we set our sights on trying to keep  this football team together, focusing first on our core players,? general manager Rod Graves said during media day Tuesday. ?I realize that we have four to five core guys that are extremely important in trying to get re-signed.  Those guys have expressed an interest in remaining here.  We want those guys to remain with us.  I think we have a good opportunity to sit down and get something done with those guys after the season.?
Quarterback Kurt Warner and linebacker Karlos Dansby are unrestricted free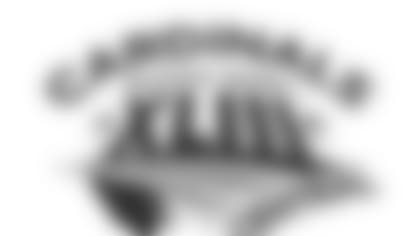 agents. Wide receiver Anquan Boldin and defensive tackle Darnell Dockett want to re-do their deals, safety Antrel Rolle will likely need to re-do his deal because of escalators kicking in, and safety Adrian Wilson needs an extension going into the last year of his deal.
Graves also knows the price for players goes up after a team makes a Super Bowl.
?We live in the era where everyone?s focused on more money and everyone feels like you have to get it while you can,? Graves said. ?I?m certainly not surprised by that.  It?s something that we have to deal with and we?ll get it sorted out after the season.?
Boldin said again Tuesday he put his contract issues ?on the backburner? and they will stay there until the season ends. Boldin said in training camp he didn?t want to stay in Arizona long-term and while he hasn?t talked about it again, he hasn?t backed off it either.
?I don?t want anything to take away from this moment because it?s not promised that I?ll ever be here again,? Boldin said.
Graves was asked if Boldin was happy in Arizona, and Graves said Boldin was the only one who can answer that.
?It would be my belief that he would like to continue here in Arizona, but again, we?ll sit down with him after the season and evaluate where he is and where we are as well,? Graves said.
Cardinals assistant head coach/offensive line coach Russ Grimm nearly became the Steelers head coach in 2005 ? some reports said at the time he actually had the job before the Steelers reversed course ? before Mike Tomlin got the job.
?Any time you make a run at something and don?t get it, you?re disappointed,? Grimm said. ?But that?s the nature of the business. A decision was made, and I respect that. It was time to move on, and then you go somewhere and start all over again. There are no hard feelings there. And I love the Rooneys. They were great to me while I was there.??
Steelers wide receiver Hines Ward is the only major injury concern for the Super Bowl (Cardinals running back J.J. Arrington looks fine walking around on his knee) with his MCL strain in his knee, but Ward said Tuesday he hopes it will not be an issue.
?Having the whole week off last week, I tried to put two weeks of rehab into one week, working overtime and rehabbing the knee,? Ward said. ?So far, so good. I?m walking around without a brace. That?s a good thing. I?m giving it a chance to rehab it a couple of more days. I will try it out on Thursday and actually do some cutting and running routes.?
Cardinals owner Bill Bidwill did a brief interview with the NFL Network?s Deion Sanders, an odd combination on its face. Bidwill said he was excited for his team and hoped they won Sunday, before Sanders complimented Bidwill on his red sportcoat and asked if he could have it for a ?little something with Diddy? Saturday night.
?This jacket?? Bidwill asked.
?We?ve won a lot of games with it,? Bidwill answered, turning down the request.