Linebacker Karlos Dansby hauls down Falcons running back Michael Turner after a short gain during last weekend's Wild Card playoff game.
Michael Turner gained all of 42 yards rushing, and zero in the second half, stunningly low numbers for the Atlanta Falcons running back.
The Cowboys' Marion Barber gained just 45 yards on 17 carries, the Rams' Steven Jackson had just 81 yards on 26 carries in two games and the vaunted Giants – who came into the game averaging over 200 yards rushing in their previous three games – gained 87 as a team.
Those were some of the Jekyll performances from the Cardinals' defense. They'd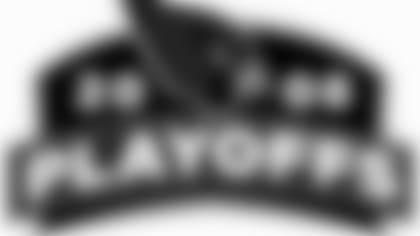 rather Hyde from a couple of the others, including the missed tackles they suffered in an earlier trip to Carolina, or meltdowns in late-season blowout losses to Minnesota and New England.
Coach Ken Whisenhunt has talked repeatedly about the need for the unit to regain focus and discipline, something he said the defense did in the Wild Card playoff game against Atlanta.
How the group has veered into losing such things in certain games, however, is up to interpretation.
"It's not talent, it's not that we are overmatched or overpowered – it is a lack of focus and lack of details," veteran nose tackle Bryan Robinson said. "I didn't have an issue of us stopping the run (against Atlanta) because we have done that against some of the best backs. The key is, 'Can you sustain that every week?'
"When things don't go your way early, do you switch up and do your own stuff? The good (defenses), the Minnesotas, the Baltimores and the Pittsburghs, they stay disciplined and focused every down."
The team's first visit to play the Panthers showed both sides of the defense. In the first half, when the Cardinals built a 10-3 lead, the Panthers had just 122 yards. The second half, Carolina had 239 yards scored three touchdowns in the third quarter while the Cards missed too many key tackles.
The players acknowledge they haven't been consistent enough. Many Cardinals on that side of the ball thrive on emotion and momentum, one of the reasons the group seems to play better at home.
"It's just mental lapses, maybe your body is worn out, your mind is worn out. I really don't know what it is," safety Antrel Rolle said. "I know there are times when I might not have been as alert – you may miss a certain call or miss a certain adjustment.
"But it's all a part of football and it's all a part of growing up. You learn from your mistakes. The last stretch of the season, it wasn't good, and I can't get mad at people for doubting us. But they also have to understand our eyes are on the bigger prize right now."
Getting to the playoffs squeezes the focus, which should help, Robinson said. Whisenhunt is just happy the message is getting through, and the tangible results the Cards got against Turner and the Falcons will be a factor.
"When you have success stopping them, it gives you confidence in what you are doing," Whisenhunt said. "It doesn't mean you will be successful next week. But it helps our guys buy into how we have to do it."
Turner and Jerious Norwood were rendered ineffective for Atlanta, but Carolina may have a better duo with running backs DeAngelo Williams and Jonathan Stewart, who have combined to score 30 touchdowns. And wide receiver Steve Smith has an argument to be considered the best wide receiver in the league.
Defensive end Bertrand Berry noted that, along with discipline, there also has to be a desire to swarm the ballcarrier and bring him down.
That was an issue against the Panthers the first time. A key play was Smith catching a 20-yard pass and turning it into a 65-yard touchdown, in part because there was an assumption cornerback Rod Hood would make the tackle and not enough of his teammates came over to make sure the play was over.
That's why focus and discipline remain the key buzz words -- because it doesn't take much of a mistake to lose the game.
"It's a thin line, that's the thing," Hood said. "It's a game of inches.
"No one is going out there trying to mess up. You may just be a couple of inches out of your gap and that's all it takes." * * * Contact Darren Urban at askdarren@cardinals.nfl.net. Posted 1/7/09.