Rookie Brandon Keith, working at guard on this practice play Monday morning, shoves aside fellow rookie Calais Campbell.
FLAGSTAFF – Brandon Keith thought he was a right tackle. Then he wasn't.
The Cardinals had hoped to stick the rookie seventh-round pick at right tackle this season and let him learn one position fully before trying him other spots. Instead, Keith said offensive line coach Russ Grimm – who had smartly made Keith get some practice reps at right guard through camp – told him Wednesday that Keith would have to play guard in Thursday's preseason game.
"I thought he was playin'," Keith said. "I was like, 'Are you serious?' "
Not only was Grimm serious, but Keith's first series came when the Cardinals were pinned at their own 1-yard line and in the two-minute offense.
"I was nervous as heck," Keith said. "But we marched out to the 50."
Coach Ken Whisenhunt praised Keith after the outing against the Saints. There is
[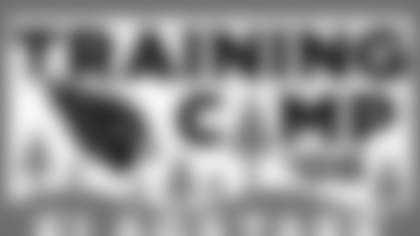 ](http://www.azcardinals.com/news/training_camp.php)
little question the Northern Iowa product has a learning curve to endure, but the team's belief after seeing Keith in camp is that he can develop into a good pro.
Keith was forced to play guard because of injuries to multiple backups, and he is being used as the second-string right guard and the third-string right tackle currently in practice.
"They are giving me a great opportunity," Keith said.
He must learn on the fly, though, along with a lot of other inexperienced players. Keith chuckled at what he called a "crazy play," one in which rookie quarterback Anthony Morelli called the wrong formation for a running play on fourth-and-2 late in the Saints game.
Keith was confused because the receivers ended up on the wrong side of the formation, and before the ball was snapped, he asked right tackle Elliott Vallejo if he should follow through on his regular duty to pull. Vallejo told Keith to just do his job. Keith estimates he chucked "two or three guys" to help clear the way for a seven-yard Steve Baylark run.
"I was like, 'Oh my goodness,' " Keith said. "But you've got to be football saavy. Everything isn't going to be perfect."
Cornerback Antrel Rolle (ankle) remains out and day-to-day. Rolle's backup, Aaron Francisco struggled in the preseason opener. But he did make a nice break on a ball during Monday morning's work and made an interception.
Wide receiver Early Doucet (hamstring) remains out. He would seem to be a longshot to be ready in time to play the second preseason game Saturday in Kansas City.
Steve Breaston may eventually end up as the Cards' main third receiver, but Whisenhunt said it shouldn't change Breaston's spot as the team's return man on kickoffs and punts – the role in which Breaston excelled as a rookie last season.
Whisenhunt has a recent example as well, pointing to former Steelers third receiver Antwaan Randle-El, who was Pittsburgh's return man when Whisenhunt coached there.
"If you have somebody who has a dynamic ability in those areas to be a threat, then you want to give him the chance to have the ball in his hands," Whisenhunt said.
Quarterback Matt Leinart said his arm feels stronger than what it did last year, which has helped him avoid soreness through camp. …
Whisenhunt said the Cardinals were hoping kicker Neil Rackers could contain his emotions more this season – in good times and bad – and allow him to focus better. Whisenhunt also said Rackers has looked good in camp thus far.
This article has been reproduced in a new format and may be missing content or contain faulty links. Please use the Contact Us link in our site footer to report an issue.