Quarterback Matt Leinart, here handing off to Edgerrin James in the preseason opener, said the game has slowed down for him.
FLAGSTAFF – Matt Leinart was in a good mood Wednesday, having just watched the comedy "Stepbrothers" with about half his teammates during a field trip to the movies in lieu of morning practice.
"(Will Ferrell) did great, man. And John C. Reilly was really funny," Leinart said. "The whole theater was laughing."
As at ease as Leinart was, he is similarly so on the football field heading into his second preseason game this weekend in Kansas City. It may just be another practice game, but for Leinart, the impact is different – as is his mindset.
"Last year I was never totally comfortable in the preseason," Leinart said. "I
[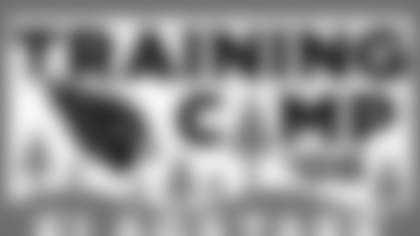 ](http://www.azcardinals.com/news/training_camp.php)
remember one game I was 7-for-7 against one of the teams (against Houston in a 33-20 home loss) but I still never found a rhythm. And that carried over (to the regular season) I think. This year is different."
Leinart is still expected to start and he also believes he will play longer than the 15 plays he got in the opener. Fellow quarterback Kurt Warner, who sat out the preseason opener, will also play for the first time.
While coach Ken Whisenhunt has not declared his playing time choices for the Chiefs' game, but it wouldn't be a surprise to see the top two quarterbacks – and probably the first-string offensive line – play the entire first half.
Leinart simply wants to build on the 7-for-8 passing performance with which he opened the preseason.
"I do feel, for me, (the game) did slow down a little bit last week as far as my reads," Leinart said.
A day after rolling his left ankle in practice – and scaring everyone – cornerback and first-round draft pick Dominique Rodgers-Cromartie was walking around Wednesday, took part in the morning walkthrough and came out Wednesday night in full pads.
Rodgers-Cromartie did little in practice before shutting it down, but his ankle was not heavily wrapped and he walked without a limp.
Cornerback Rod Hood (foot) practiced, as did rookie guard Brandon Keith (foot). Safety Antrel Rolle (ankle) remains out, and defensive end Darnell Dockett (shoulder) sat out as well.
UNDER THE LIGHTS, PART TWO
The Cardinals held their second and final night practice at Lumberjack Stadium, and the intensity level was definitely raised compared to the first time.
The first sign came when linebacker Travis LaBoy came around the edge during an 11-on-11 drill and hit quarterback Brian St. Pierre – a definite no-no during practice. Whisenhunt immediately came over to talk to LaBoy and an upset Kurt Warner also tried to talk to LaBoy.
Later, during red zone 11-on-11 at the end of practice, running back Tim Hightower collided with safety Aaron Francisco. As the play was ending with the two battling for the ball, safety Adrian Wilson came over and knocked Hightower down. Tackle Levi Brown took exception and pushed Wilson, and a large scuffle ensued with much of the team – although it was quickly broken up.
"Those are intense guys, leaders of our team," Francisco said. "This will only make us better."
Added Hightower, "It wasn't a scrimmage but it felt like a scrimmage, and that's what coaches want to see – guys getting good work, offense pushing defense, defense pushing offense."
For a second straight training camp, Whisenhunt led the team through a morning walkthrough and then abruptly cancelled the workout so his team could go to the movies.
Taking over the local Harkins Theater for the morning, the players had a choice between the aforementioned "Stepbrothers," "The Dark Knight," "The Mummy: The Tomb of The Dragon Emperor," and "The X-Files: I Want to Believe" – although some players were trying to get the theater to allow them to see "Tropic Thunder" instead.
"There were quite a few of them grumbling and groaning this morning about being sore and stiff," said Whisenhunt, who watched "Stepbrothers." "It was probably good timing. It was a good change of pace."
This article has been reproduced in a new format and may be missing content or contain faulty links. Please use the Contact Us link in our site footer to report an issue.