Cardinals president Michael Bidwill addresses the Greater Phoenix Convention and Visitors Bureau luncheon Thursday after receiving an award for his work getting Super Bowl XLII.
The event was in part to honor those who helped bring Super Bowl XLII to fruition earlier this year, and for that, the Cardinals – represented by Michael and Bill Bidwill – were among those given a Visitor Industry Champion Award at the Greater Phoenix Convention and Visitors Bureau's annual meeting Thursday.
But the theme of looking back at the game between the Patriots and Giants also allowed segue into the future – and getting another Super Bowl to Arizona.
Just a couple of days after Arizona's bid for the 2012 game came surprisingly close to unseating Indianapolis, both Michael Bidwill and Super Bowl host committee chairman Mike Kennedy stressed the need for teamwork before the group can make a planned attempt next spring to bid for the 2013 Super Bowl.
"I don't think it's going to be very long from now before you see (another Super Bowl) return to the Valley," said the GPCVB president and CEO Steve Moore during the lunch at the Arizona Biltmore.
While Indianapolis beat out Arizona for the 2012 game earlier this week at the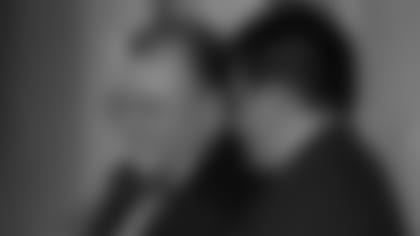 owners meetings in Atlanta, it took four votes to reach a decision. While Indianapolis had been considered a heavy favorite, the tally on the final vote was only 17-15.
"I think it validated the path we are on," Kennedy said. "It sets us up for 2013. It can't be any closer.
"I think it's been well worth the effort."
Michael Bidwill told the audience of hospitality and political leaders the host committee – of which Bidwill is also a member – wants to "put the ingredients together" for a 2013 bid over the next several weeks, so everything can be in place well before bid presentations in May, 2009.
"The Super Bowl will be back," Bidwill said. "I think we're going to win (the bid) next year.
"We want to bring this game back to Arizona. We want to let people know about our world-class city."
While Bidwill said he was disappointed Arizona did not capture the 2012 Super Bowl, Kennedy admitted Indianapolis' new stadium gave that city leverage in their bid.
"The stadium thing with Indianapolis was difficult to deal with," Kennedy said. "If you don't award a Super Bowl when a community invests in a stadium, that's a tough message to send (by the league). I understand that."
But Kennedy also said the most recent Super Bowl had its intended effect on NFL owners – and the fact they were pleased showed in how close the recent vote was for 2012.
"I think the experience influenced the owners a lot," Kennedy said. "Last year (when Arizona bid for the 2011 game), a lot of the owners said, 'Well, let's see how Arizona does.' So this year, I came right back at them and said, 'We like to think now we have earned your respect and confidence as a premier host of Super Bowls.' I hope that resonated."
This article has been reproduced in a new format and may be missing content or contain faulty links. Please use the Contact Us link in our site footer to report an issue.